#8221.03.18
Panelists: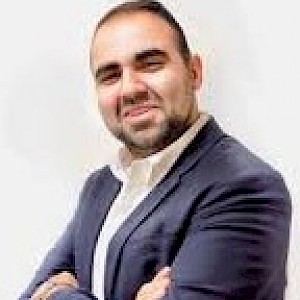 Pasha Hajian
—
@PashaHajian
Founder of Gol Bezan Podcast. USSF Licensed Intermediary for MBS Sports
Country of residence: U.S.A.
Guests:
Mehdi Mahdavikia (@mehdimahdavikia) 
Notes:
Q: Hello friends, this is Pasha Hajian, thank you for listening to this episode of Gol Bezan. I'm with Mr. Mahdavikia right now. Mr. Mahdavikia, I know it's pretty late where you are right now, thank you so much for your time, and thank you for coming on our podcast.
Hello, thank you for having me here and hello to all the dear listeners of this podcast.
Q: Thank you Mr. Mahdavikia. I wanted to ask you about how you felt in that moment when you scored that historic goal, and I mean really historic, on the United States?
(chuckles) Well, I must say that there are certain events in my life that I will never forget, and this is definitely one of those events. This is one of my athletic career's most unforgettable moments. I was very young when I scored that goal, about 21 or 22 years old, and scoring such an important goal in that age would go down in the history books of Iranian football at the World Cup, especially considering all the drama that surrounded this specific fixture, which I'm sure you're well aware of. I was very happy to score that goal, it was great both for myself, and for Iranian football. It all started from that play that began in the middle of the midfield, after which I ran towards the opponent's goal with a defender hot on my trail. My whole focus was making sure that this would result in a goal. I was so focused on the goal and the goalkeeper that I didn't even notice that Mr. Mansourian was open for me to pass to until reviewing the film later. However, I think I made a really good decision taking a hard shot like that, and it is certainly a goal that I will never forget.
Q: Yes, I'm sure it must have been a really special and delightful moment. Mr. Mahdavikia, most of the questions we have received were from external websites and from our Twitter page, and one of the questions people wanted us to ask you was your opinion of how the current Iranian national team compares to the 1998 squad for which you played for?
 Well, the squads can't really be compared. Each era has its own set of effective players. The 1998 squad was a very complete team with some big stars. It was one of the best generations in our history, and we had some of Iran's best players in each position. For example we had Abedzadeh as our goalkeeper. If we take a look at our attackers, we had some of Iran's greatest ever forwards in Ali Daei and Khodadad Azizi.  There were also players such as Karim Bagheri, and Hamid Estilli; it really was a complete team. That being said, I think we definitely could have used a bit more international experience, which the current squad has. Back then, we only had one or two Iranian players playing abroad in European leagues, including myself, having played in the Germany for only a year at that time. However, when you compare it with today's squad, you can see that the current crop has much more experience in European Leagues than we had back in 1998. But it was a truly a strong team. If we had believed in ourselves a bit more, perhaps we could have even advanced from the group. We played a great game against Yugoslavia and lost very narrowly. We also played a great game against Germany. The only difference I see in the current squad and the 1998 one is the European experience, that's pretty much it.
Q: Mr. Mahdavikia, I want to talk about your academy now, FC Kia. Tell us more about it, what are your goals, and what goals have you accomplished so far with this academy?
Kia FC was an idea that I had in my mind for many years that had come to me when I was playing my football in Germany. Whenever I would come to visit Iran during the breaks, I was always faced with the question of "How come Iran doesn't have the infrastructure to support grassroots football like in Germany despite having many talented players?". With the academy, I was hoping to create an environment in which I could gather young and talented players who were in poor financial standings and give them an opportunity to learn football the right way. I believe that football should be learned at the youngest of ages, and this is why I created the first U-11 team in Iran and played in international competitions, something which had never been done before in Iran. The goal of the academy is to ensure that by the time the academy players reach the ages of 17 or 18, they will have had at least 200 games against high quality international teams. We've already achieved part of this goal. I think the kids that are currently playing have around 40-50 games under their belts already against teams such as Barcelona, or Bayern Munich, or Hamburg or many others. They've played a lot of games against European opposition despite still being under 15 years old. The goal was to bring them up as international players and to do a service for Iran's football. It's been a tough journey so far in these past three years. As you know, in Iran, having an abundance of financial resources is key for running such programs. This is mainly gained through sponsors. However, everyone in Iran is focused on sponsoring the senior team, and no one really pays much attention to the youth teams. No one is interested in investing in grassroots football. We have received some support, but it's really been a tough journey. I think the academy currently has around 70-80 players, and we hope that in the coming years, we'll soon be able to slowly introduce some of these players to Iran's football.
Q: Mr. Mahdavikia, since we're on the subject of financial assistance, I wanted to ask this question. Do you receive any support from other clubs, or the football federation, or have you mostly been funding this endeavor yourself?
No, I haven't received any support for this; it was mostly a personal endeavor. We have had some sponsors along the way, but they weren't completely committed. There is no guarantee of how long they will be with us. I'm sure you can imagine the financial difficulties of managing 70-80 kids throughout the year, having 2-3 trips from Iran to Europe, each taking 60-70 players along, it really is no easy task. We've managed so far, but it truly is difficult.  
Q: Thank you Mr. Mahdavikia, another question I had for you in regards to the Kia Academy, was about the players. I'm aware that some of the players you are currently developing are receiving some amazing contracts from European clubs. Is there any specific player that we should look out for in the future?
Well, the goal is to make sure all of these kids become great players in the future and be able to make our national team proud. I can't really point out any names as these kids are still under 15 years of age, but you can be sure that there will be great players emerging from this academy in the coming years. We are working hard to find the most talented players for this academy. In the past year, be brought in a coach from Hamburg to coach the kids and to even give some coaching tips to young Iranian coaches for free. He's currently the coach for the senior Hamburg team now. Other than that, we brought in goalkeeper coaches, fitness coaches, all specifically for the academy. We're doing something new that will familiarize our players with that European players experience from a young age. As I said before, we also organize matches against some of the best teams in Europe to see how we compare. We will definitely see some great players emerge from this academy in the future.
Q: What you are doing for Iranian football is truly amazing. I'm sure the players are grateful to have a mentor such as yourself. Our next question is about one of Iran's hottest players right now who is really making a name for himself: Alireza Jahanbakhsh. I know that you gave Jahanbakhsh a lot of advice when he was first moving to the Netherlands, and I wanted to ask you your opinion on his development.
Well, first off, we have to think back to the time when Alireza was still a young and unknown player who had recently been added to the squad of Damash Gilan. I was in this team for about six months and when I first saw this player, I knew from day one that this player had all the skills and talent necessary to make a name for himself. He had a great season in Damash, and received lots of helpful advice from those around him, myself included. I remember he told me one time that he had many offers from teams within Iran, and also one team from the Netherlands, which wasn't very well known. He asked for my advice, and I told him that this was exactly how I started out myself. I started my European career in a relatively small team such as Bochum, and I told him that making a move to the Netherlands will no doubt be beneficial for his development as a player, and he would without a doubt make a move to a bigger team after a season or two. He made the move to Nijmegen, and I provided him with all the insights and experience I had gained from my time in Germany. Besides myself, he also had many other great advisers around him such as Mr. Hashemi Moghaddam, and many other who reside in the Netherlands. After a few good seasons in Holland, he came to me again, saying that he had some offers from teams abroad, and an offer from Alkmaar. I advised him to remain in the Netherlands for the time being since he still had to further develop his skills before he could make a move to abroad. He was only just getting used to the football in Holland. As we have seen, this has been a great decision. He has made great progress at AZ Alkmaar these past few years and is currently among the best players in the Eredivisie. I attended one of his games a few weeks ago so I could see him up close, and I was very proud of his progress. I'm thankful that he has chosen the right path in his career, and hopefully we will see him in a much better team after the World Cup; I believe he is now ready to make such a move.
Q: Mr. Mahdavikia, your point about his path brings upon another question. About three weeks ago, we had an interview with AZ Alkmaar's head coach, and he mentioned Alireza's desire to play in the Bundesliga. Do you personally think that his playing style will fit in well in the Bundesliga?
Yes of course. He's a very skilled player. He's fast, has great dribbles, he's a good finisher, he creates scoring opportunities, and is overall a very complete player. He has all the skills necessary for a right winger. He's currently at the point in his career where he's ready for new challenges and the ability to play on a bigger team, so I definitely think he should consider such a move after the World Cup.
Q: Mr. Mahdavikia, another question we have for you is regarding the transfer of Iranian players to European leagues. What factors do you think are preventing more Iranian players to go to European leagues?
Well as you know, a main factor is that non-European players can't sign with European clubs until they are at least 18 years old. This is a great hurdle for Iranian players, who are considered non-European of course. Another issue is that we have failed to produce any star players at a young age in these past few years in comparison to the past.  There was a time when you would see at least 13-14 Iranian players in the Bundesliga, whereas now it's the complete opposite, and we instead see 13-14 Japanese players in the Bundesliga. We don't even have a single player in Germany's top league. This shows that we perhaps could have done better. However, our presence in the World Cup could be very beneficial for future transfers. If our players have a good showing at the World Cup, Iranian players will surely catch the eyes of European scouts once again. And once we have one or two players do well in leagues like Germany or Spain, it will open the gateway for more transfers. But unfortunately, for the time being, we don't have any players in the top European leagues, and this is disappointing.
Q: Yes, you are absolutely correct. Hopefully things will change after the World Cup. Mr. Mahdavikia, thank you so much for your dedication. I wanted to ask about your coaching experiences at Hamburg. You're currently at the height of your coaching career in Hamburg, of which you were a star player for as well. Tell us a bit about your coaching career and what your biggest experience has been so far.
In regards to my coaching career, I wanted to start it the same way I had started my playing career, and that is to develop a strong base from the bottom before slowly moving up, and this is why I came to Hamburg. I started out with Hamburg's academy team as the coach specializing in attacking. I also coached on scenarios which I myself had a lot of experience with, such as set pieces, corners, moving up the field, and training the team's forwards. It's been a great experience here in Hamburg, and it has led me to realize why Germany's football is advancing so much, especially at the grassroots level. One of my biggest experiences that I have gained in these past few years is that I now know exactly what needs to take place in a club's foundation for it to progress, and I am carrying over my experiences at Hamburg into my own academy in Iran. I have received the necessary coaching licenses for my work so far, and will be getting my 'A' license in the coming year. With the recent changes in Hamburg in regards to the departure of the coach, some changes were made within the club, and some of the coaches were moved around to fill empty positions. I was chosen to teach the same attacking and set piece skills I had mentioned earlier to the 16 year old players as well. I work as the assistant coach alongside one of my former teammates in Hamburg. This responsibility has been assigned to me until the end of the season. Mr. Hashemian is also with as assistant coach of the 17 year olds. I'm gaining great experience here, as well as attending coaching classes. A few weeks ago, I had the honor of representing Hamburger SV at a new training facility opened in Berlin by the German Football Association. I was a representative in the U-15 department and I am able to witness the cause of German football's great success and progress and why we will always continue to see Germany as one of the world's four greatest teams. They are very professional and well organized, and nothing here is based on luck. You can't qualify to the World Cup every year only though luck; they are giving great effort here in Germany. I'm hoping experiences here will be able to progress Iranian football as well.
Q: Yes, absolutely. Our next question for you is in regards to Mr. Hashemian. Do you see a time in the future where you two would coach together, possibly in Iran?
Sure, why not? Vahid [Hashemian] and I are great friends and we go way back. We were teammates in the past, and now are colleagues and we have a very close relationship with one another. I'm sure that Mr. Hashemian will be a very successful coach because he's very methodical in his work. I hope he can also use his experiences to help benefit Iranian national and club football as well. I think great things are going to happen in the next 10 years and we hope that we can serve our country's football well.
Q: Thank you Mr. Mahdavikia. One of our last questions for you is about the World Cup, and the unfortunate group which Iran sees itself in. This is going to be a very tough group for us to advance from. What are your thoughts on this group?
Well, this is certainly one of the toughest groups in the World Cup, with the presence of Spain, one of the former world champions, Portugal, the current European champion, and Morocco, one of Africa's champion teams. I think we are in the group of champions. I think our first game is definitely the game that will determine our fate in this group. If we can defeat Morocco, it will certainly open a window of hope for us to advance from the group. But it is no doubt a tough task. Portugal and Spain are among the world's best teams, but maybe our defensive style of play might catch them off guards, as we saw in the last World Cup with our counter attacks against Argentina. If we can manage to not concede any goals from these teams, the odds will no doubt be in our favor. We will see what tactics Mr. Queiroz will come up with for the World Cup, but we certainly have a tough task ahead of us.
Q: The last two questions we have for you Mr. Mahdavikia, are also related to the current national team. What do you think about our World Cup qualifying campaign in comparison to previous qualifying campaigns?
We had a great qualifying campaign. We were among the first teams to qualify for the World Cup. Our defensive structure was superb, and we didn't concede any goals until the last match day, and it showed that the coach had done a great job with the defensive tactics of the team. We didn't score many goals when it came to the attacking department, but we are hoping that this area will improve in time for the World Cup. But overall, we had a very strong qualifying campaign, with a young team and I hope that Mr. Queiroz will be able to choose a tactic that will help us be successful in the World Cup.
Q: Do you think we will advance from the group?
It will be very hard, but football is unpredictable and anything can happen. It will be very hard with teams such as Spain, Portugal, and Morocco in our group though. Many think that Morocco will be an easy team for us to defeat, but I actually think that it will be one of our hardest matches. This is the team that scored 4 goals on Nigeria in the final of the African Championship. They are certainly a quality team. I have seen a few of their players up close in Europe, and they are great players with lots of potential. We have a very tough task ahead of us if we want to advance from this group.
Thank you Mr. Mahdavikia, it was a great honor for us to have you here on our podcast. Thank you so much for your time.
You are very welcome, it was a pleasure.   
Translation: Kian Bonakdar