03.11.22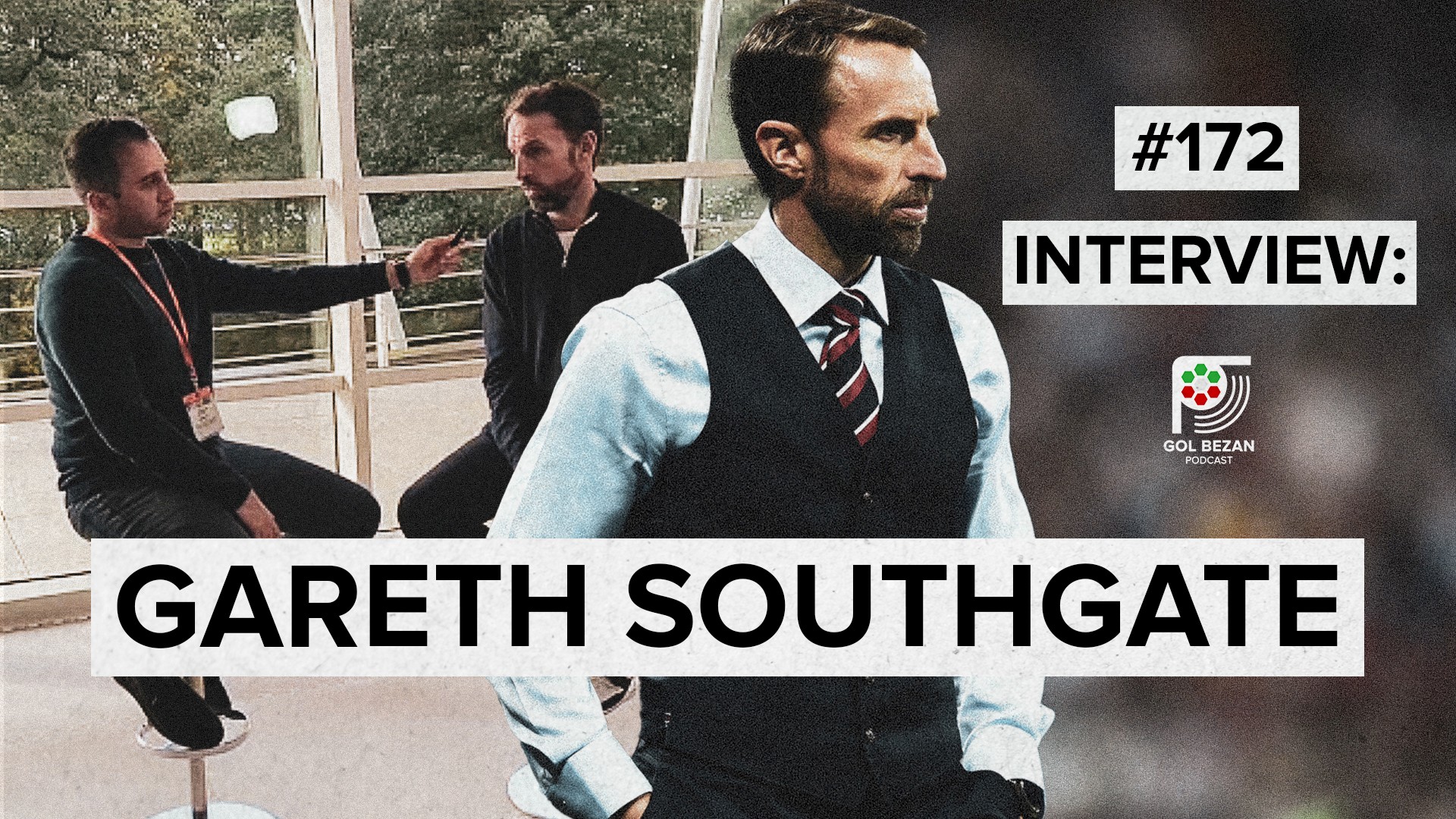 Written by Alex Azarm
Graphic by Mahdi Javanbakhsh
To watch/listen to the interview click here
You were at the game against Senegal for Iran. Carlos Querioz is now back with the national team. Do you think that changes anything for you from a preparation standpoint going into the World Cup considering Dragan Skočić was the coach before? Will you change anything going into the World Cup?
Some of that is still to be seen because Carlos [Queiroz] only had a few days with the team and you could see some changes in what they were doing. There obviously is not a lot of time for any of the coaches to work now with the tournament coming up - I think you [Iran] have one more game possibly coming up. But for us it was important to be able to see the [Iranian national] team play, you don't usually get to see other international teams play because they're playing at a similar time, especially with the change of coach but obviously we also looked back to Russia, how the team played in Russia, and some preferences Carlos might have had over the years as a coach as well.
It was a tough camp for you guys - the one before, you didn't win but overall you've not had a win since March if I'm not mistaken, it's been difficult results for England. When you go to the World Cup, you've got to get a win. Do you think the players are going to be under pressure, do you think you'll be under pressure to have to get a win considering that Iran have had two good performances? In the World Cup, do you think that win will be really important for you guys?
I think that's always the case with tournaments and the first game with so much emphasis on it. We were the same in Russia, we were playing Tunisia in the first game, it was a really difficult game, we ended up scoring in stoppage time or just before the end of the game. We know it's a really tough first fixture for us. It's going to be a different view from the fans because they expect us to beat everybody but we know that Iran, USA, and Wales are the strongest group in terms of rankings across the four teams. But we've got belief in ourselves, we haven't gotten a good run of results, but we also know what we're capable of, we've been to a semi-final and a final. We want to approach this tournament as we did the previous ones where it's the chance to take our country on an enjoyable journey with the opportunity to create some moments of football that will live with people forever.
Since Carlos Queiroz has come back, it's likely he'll bring back players that he's worked with before. So players like Ramin Rezaeian for example. Do you think that for yourself you've shown loyalty to some of your players in the past, do you think that factors into your choice as a coach picking the squad? Picking players that are more important on a loyalty standpoint or does form factor into it as well?
It's interesting because people are always talking about loyalty but it's because those players have played well. We don't have favorites, the favorites are ones who play well, are professional, and do the right things. We've had some challenges at the moment that some players who've played a lot for us haven't played quite regularly for their clubs, are they going to be physically ready to play every game in the tournament for example, some of those things are going emerge over the next few weeks when we're following Premier League and European matches and we'll have a better view of exerting where people might be at that point.
You might be aware that last month, there was the killing of Mahsa Amini - by the hands of the so-called morality police in Iran. This sparked widespread protests across the country and across the world as well - and you saw it at the Senegal game. You've been very vocal in past years regarding football's responsibility to highlight these issues and players voicing their concerns and opinions on it. How important do you think it is for footballers to acknowledge and support these wider issues and do you think that even the fans get behind it and to help with the Iranian fans to support this cause in the World Cup?
I think there is a balance. Our first job is to create a good football team, and with our national teams, there is always the opportunity to affect things beyond football. When that's been in a situation that has directly affected us, for example experiences of racism as a team with players from lots of different backgrounds, who have hade tough journeys in their lives, we have been able to speak about those things authentically and we have been able to make a difference. But then there are other things that are politically more difficult to be clear on the types of messages. With the tournament being in Qatar, we have had to do a lot of research and be clear on what we might be able to affect and what we might not be able to affect, what areas the government is dealing with. I have a responsibility as a national manager, I can't just speak and not think about the consequences of the position I hold, so I am always assessing all of those things and, where we can make a difference, we'd like to. And where we're not as informed or there are cultural differences, we also acknowledge and are respectful that other countries have differences as well. It is complicated and I'm not a university-educated guy, I'm a guy who left school at 16 and is trying his best to help where I can.
In terms of the World Cup, Querioz has said that in his view, bigger teams have an advantage in terms of the schedule, because smaller teams need more time to prepare compared to the bigger teams. Do you agree with that, do you think you have an advantage or do you think that England is impacted by the schedule of this World Cup?
I understand that all teams would like more preparation time really, all coaches, because the Premier league will finish Saturday, Sunday and we will have Monday to report, Tuesday to travel so only at best four days on the training ground prior to our first match. For Russia we had almost a month so it's a big difference. There's also a considerable amount of matches now between now and the tournament that's out of our control of how many players might we use but I think most teams facing those difficulties and we've all got to adapt and accept that this is different and to make the best possible case from it.
Obviously all the teams in Group B have had their difficulties for different reasons. Do you think that as a result there's more of a chance of a surprise happening in this group?
The tournament is really hard to predict, so many of the countries have had disjointed preparations, players missing, difficult results, negativity around the team, so I do agree I think it's potential for upsets, potential for unexpected results does feel quite high, we'll only know when we all get there.
What are England's objectives for this World Cup? What do you want to achieve with this team in Qatar?
The last two tournaments we've been to we've talked about when we come back from the tournament we want the country to be proud of what we've done and they're not gonna be proud unless we win some matches, so first and foremost we have to do that! But there's a lot more to how we play, how we are, and how we connect with our public as well. I never like to say we've got to make a quarter-final, a semi-final, a final, whatever it might be because it's obvious we want to go in there to win because it is pointless thinking any differently. But what would be the objective is that our fans go on another brilliant experience. The last two tournaments have been fantastic, that hasn't always been the case. I've travelled to World Cups when I haven't been a player or a coach and seeing fans on planes flying to venues, the carnival of it all and sometimes you miss out on that - the guys in the camp. What I saw what it means to the fans to celebrate the wins and to be part of this football experience so we want them to have that, we want to go and win some matches and come home and be proud of the team.
There's been a lot of eyes in this group, obviously massive. England, USA, Wales. England playing Wales. Iran playing the USA. Lots of storylines for the media. Do you think that puts pressure on the players and how do the players cope with that at the World Cup and what would you tell them to do?
In the end, pressure is what we decide. Because the biggest pressure is your voice really in your head. The narratives around certain games are due for great stories. Wales and England, I don't think there's been an all-British game - with England involved in a World Cup before. That is going to create a lot of headlines, and a lot of excitement, and the drama over here [England] but it is just another game of football and we've got to be better than them, defend better and attack better and deal with the occasion. And in the end that mindset is key, there's always going to be pressure on the team and we have to deal with it.