22.11.21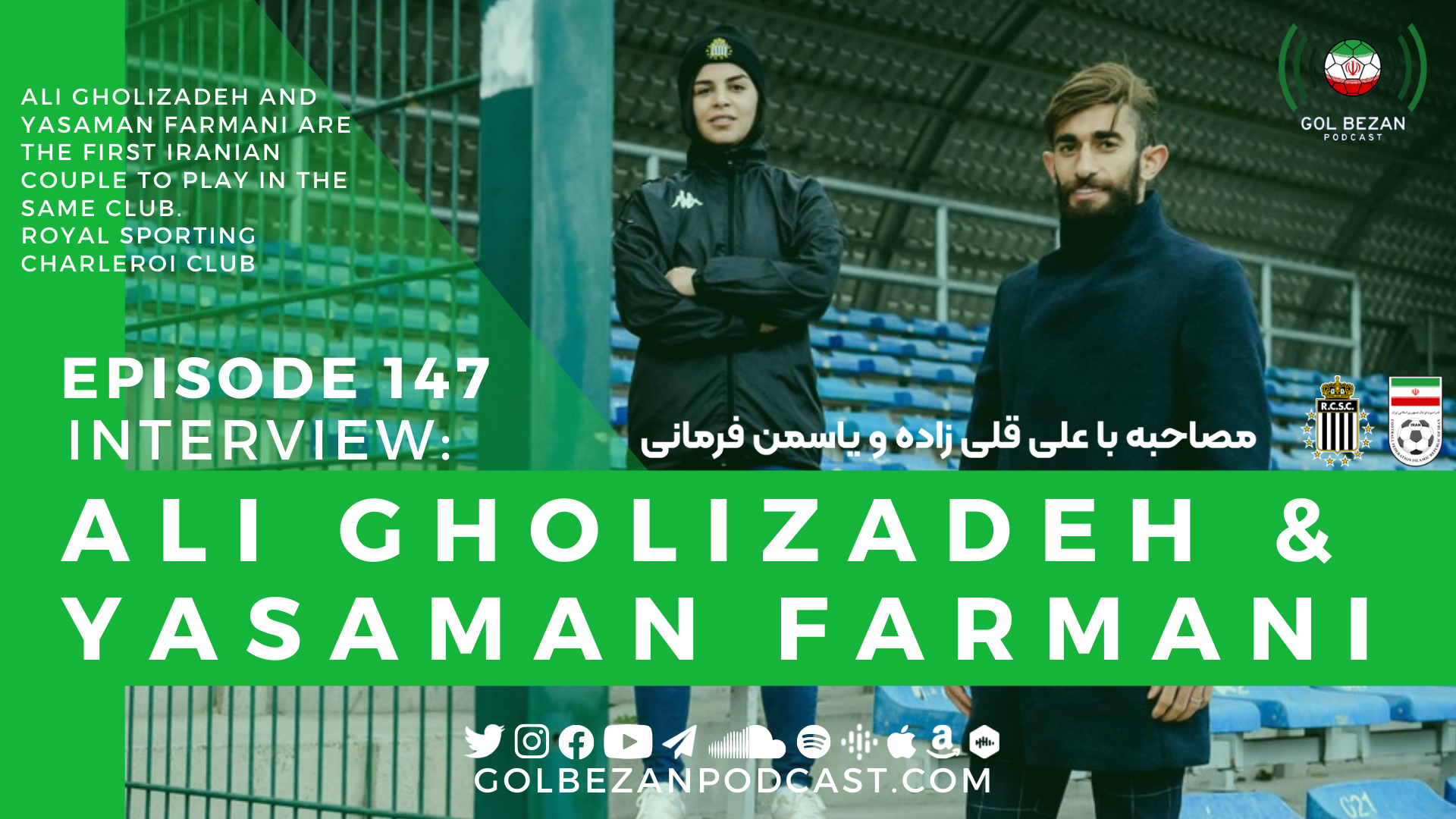 Written by Kian Bonakdar - @KianB575
Graphic by Mahdi Javanbakhsh - @mativsh
To listen to the interview in Farsi click here
Hello and welcome to all our listeners. I'm very excited for today's interview with Ali Gholizadeh and Yasaman Farmani. Both play for Royal Charleroi S.C. and the Iranian National Team for the men's and women's teams respectively. Hello and welcome to the podcast.
Farmani: Hello, thank you so much for inviting us.
Gholizadeh: Hello to you and all the podcast listeners, we're happy to be on here.
My first question applies to both of you. Ali, you've been in Charleroi for about three years now, and Yasaman you've been on the team for about a year now. I wanted to know how much your playstyle has changed in Charleroi compared to when you played in Iran.
Gholizadeh: Well, after we left the Iranian League for Europe, it was difficult at first. I'd say both of us have definitely improved both physically and tactically. Obviously, there are some personal changes that occur as well once you get more acclimated to the team and your teammates. Personally, I think the move was very beneficial for me. I have improved a lot, and I am at least 50-60% better than I was before. My playstyle has also changed for the better. Overall, it's been very beneficial for me.
Farmani: I've had the same experience. The style of play between Iran and Belgium are drastically different. This is especially very noticeable in the league. When I first came here from Iran, it took me a while to get used to acclimate to the new environment. But I acclimated fast and I'm now in a very excellent place.
When you guys came to Belgium, what was the thing that took the most getting used to.
Gholizadeh: Well, when I first arrived about a year before my wife, I had to get familiar with Belgian culture very quickly. Learning their language is also very important for them, not just in Belgium actually, but I think this applies to the entire world. Learning the language of the country you play in is a big help. This was a bit difficult for me though, as French is a hard language to learn. When I first came, I barely even spoke English. I just knew a few basic introductory phrases and that was it.  But yeah, personally, learning the local language and being physically prepared were the most important things for me.
Farmani: In the women's team, being able to follow the team tactics and knowing the language was very important. Our coach was an English speaker, so they would explain things to me on the side separately in English, but knowing the language was definitely important, and had a huge impact. The women's team played with very organized tactics that had to be strictly followed during games, so that was a bit hard at first, but every path in life has difficulties that need to be overcome.
I want to talk about Mr. Mehdi Bayat. He is both the director of Sporting Charleroi as well as the head of the Belgian Football Federation. How much has he helped you during your time at the club?
Gholizadeh: First of all, the main reason we are here is our performance as players, first and foremost. Mehdi Bayat does not care if you're Iranian or from any other country. He treats all players equally from the bottom of his heart. Naturally, speaking the same language has its perks as well. When we first came, learning the language was a bit hard for us but both Mehdi Bayat and Nader Bayat helped us through the difficulties of our early days in Belgium and they are very kind people. I am thankful to them for all their help during our difficult days.
Farmani: It's the same with the women's team. No one is given preferential treatment. However, the fact that Mr. Bayat is Iranian, helps a lot when we run into any difficulties. Speaking the same language really helps. He helps us out a lot, and we are grateful to have him. He is a gentleman, and a true professional.
Ali I want to congratulate you on renewing your contract just yesterday until 2025. This might be too early to ask since you just signed a new contract, but many people think that you should be playing in a different league, perhaps in Portugal or another league. When do you think you will make the jump to such leagues?
Gholizadeh: First of all, I want to apologize for my coughs, I've caught a cold. The contract is part of negotiations between myself and the club, and it's a plan for the future. The contract is a bit different than before, and it shows that the club trusts me. When you play well for a club, it's natural for them to want to sign a longer contract with you, and no doubt they will make a decent profit once you transfer. A lot of thought is put into these long-term contracts. I'm hoping to make a transfer at the end of this current season, and I hope it will bring a nice profit for the club as well. I will try my best to make sure this happens.
I 100% agree with you. In my opinion, you've proved in the last two seasons that you are well equipped and prepared to make the jump to a higher-level league, and I hope this transfer happens for you. Yasaman, how long is your current contract?
Farmani: I'm on a 4 year contract, but I have put a clause in the contract that I will become a free agent should Ali transfer to a different league. I've spoken with my agent about it, and this way I can look to play in a club in whatever country Ali decides to transfer to. I don't want to be in a different country than Ali. My personal life takes priority to my footballing career.
I want to talk about the Belgian Women's League. Matches for this league aren't very well broadcasted.  Can you tell us a bit about the league? How is it different than Iran's league? I'm sure the Belgian league is much, much better, but what can the Iranian league learn from the Belgian league? Would it have a positive impact on our women's national team if more players transferred to Belgium?
Farmani: The level of the league is very high here in Belgium. In regards to live coverage, I should mention that women's leagues are generally not broadcasted well in any country in the world. This is not exclusive to Belgium. I don't know of a country that broadcasts every single women's league match like the men's league matches. Despite this, one game a week is broadcasted live from the league, and from last year till now, about three of our club's matches have been shown live on Eleven Sports, which is broadcasted in 15 countries worldwide. I think one of our matches in the next few weeks will also be broadcasted live. But yeah, it's like this in all countries, just one game per week is broadcasted live, and I hope this happens in Iran very soon as well. In regards to our players, Iranian players are very skilled and talented and I'm sure they can perform well in the Belgian league if they are given the opportunity to transfer here.
100%, I agree completely. Ali, I have a question about the position you play. For your club you usually play in the 10 role, and I've occasionally seen you play as an 8 as well. For the national team, you mainly play on the left wing. Which position do you prefer yourself?
Gholizadeh: Yeah, my position has changed this season in both my club and the national team. Currently, with regards to the current situation and playstyle, I really enjoy playing in this position because I'm given a lot more space. I'm currently playing somewhat a mix between a 6, an 8, and a 10 for the team. I'm a 6 on defense. I'm both an 8 and a 10 going forward. I don't play on the wings as much for my club, but the situation is different in the national team. The system and the style of play that the coach thinks best to employ requires me to play wings. I have to adapt quickly to the coach's tactics, and play in whatever position that is required of me, whether it be a winger or a 6 or 8, even a left back. I always try my best to put out my best performance on the pitch. 
I remember when you first came to Belgium, you played on the wings. Even in Iran, you were mainly a winger. Multiple coaches in Belgium have seen that you are more than capable of playing out wide on the wings. You can even help out in defense. What do you think? Do you think you can play in this position more for the national team as well?
Gholizadeh: Like I mentioned, it's up to the coach's tactics and system really. This year, our current coach said that our main system will be 3-5-2, and there are no wingers in this system. I've forced to adapt to the system the coach desired. It was a bit difficult to adapt at first, but after a few weeks I noticed that I am actually improving. I have a lot more freedom and space. I've been more involved all over the pitch, even on defense. For the national team, its different though. It's up to the coach really, to play what system he deems best given the players at his disposal. Perhaps the coach determines that its better for me to play in this position. Usually, the coaches prefer me to play as an 8 or 10 to give me more freedom. I personally prefer this position a lot more than the winger position and it's been a lot better for me. I've always played as a right winger since I was a child, and it's nice to play in a drastically different position now. I hope I can keep up the good performances.
Very good. Yasaman, you are about to reach 200 club games, correct?
Farmani: Yes, that's right.
When? At the end of the week, or have you already reached this number?
Farmani: Tomorrow will be my 200th club game.
It's a great achievement. What's your goal for the next 200 games?
Farmani: Depends on what league Ali transfers to. If he transfers to Spain, I guess my next 200 games will be Spain. If not, I guess we will have to see what happens.
For those who haven't seen your games, what position do you mainly prefer to play?
Farmani: Well, I generally play as a defensive midfielder, especially national team. On the national team, I play one of the defensive midfield roles in a 4-2-3-1 system. In Belgium however, my position has changed to a 10 under the current club coach. However, I sometimes fall back into an 8 role if the team needs to defend in the second half.
Excellent. Ali, I think you've 5 goals until this point in the season, and 2 assists. What's your current goal for the season?
Gholizadeh: Naturally, I hope I can always improve on my stats from the previous season and build on it. It's hard to give an exact number, but I hope to have more than 10 goals and more than 10 assists by the end of the season. The most important thing however, is for me to help the team. If I can hopefully reach 11 or 13, that would be great!  
Let's talk a bit about the national team. Currently, the women's national team has qualified for the Asian Cup, and this is a great achievement. Can you tell us a bit about the qualifiers and what the team's ambitions and goals are going into the tournament two months from now? Iran's group consists of India, Chinese Taipei, and China.
Farmani: Even the first round was very hard for us. Iranian teams were usually knocked out of the first round. We played against teams that were much higher than us in the rankings. But, with intense training sessions, we were both physically and tactically prepared for the matches. Morale was also very high on the team, and we were very ambitious, strong, and united, and we were able to defeat those teams. Thankfully, we are now among the 12 best teams in Asia. 12 teams that are very famous and strong internationally and are high ranked. I'm talking about teams like China, Japan, Australia, and Korea, among others. I'm sure you've seen their rankings yourself, there is a huge gap between us and them. This group we are in is both difficult but also very good for us. I hope we can keep up the good performances. The players are currently in the training camp right now, and are working hard to ensure that we keep up the good performances and successfully qualify from the group. Two teams from each group go to the next round and qualify for the World Cup, and I hope we are one of these teams. We will try our absolute best to achieve this.
We are very hopeful for this as well! As for the men's national team, there have been some impressive results as well. There are two upcoming games scheduled against Lebanon and Syria. Ali, what are your thoughts regarding these two games?
Gholizadeh: Thankfully we've done very well so far. As you can see, we are top of the group. I hope we can keep up the good results, and gain all 6 points from the upcoming games and seal our qualification to the World Cup. Football is very unpredictable, but I'm hopeful and confident that we can achieve this. The team is in a great shape currently. We have many legionnaires in foreign clubs, and they've been performing at their absolute best, and I hope this continues and everyone can contribute positively to the team's success so we can qualify.
Do you think we will qualify for the World Cup?
Gholizadeh: Of course, 100%!
Let's move on to the fan questions. We have a question from one of your fan pages by the name of Gholizadeh Family. What do you think of your various fan pages on Instagram?
Farmani: We are very grateful for the fan pages. I want to thank them for the effort they put into the pages and the positive energy that it sends us, and we love them! Unfortunately, due to our busy lifestyle, we haven't had much of an opportunity to interact with more on the level that I'd like, but I still want to thank them regardless for all their wonderful efforts!
Gholizadeh: I agree. I'm very thankful for them, they put in a lot of hard work. To be honest with you, Yasaman and I generally aren't too involved in seeking Instagram fame, but we are happy to see the fan pages, and we are in contact with one of them. They really put it in a lot of effort and hard work into their pages, and we would like to thank them for it.
The last question is from Twitter. DxbMike says: "Charleroi is currently 5th in the Belgian league table. Is the club aiming to qualify for the Europa League?"
Gholizadeh: Of course, it's very important for us to qualify for the Europa league, but I think it's a bit too early to be making such goals at this current point in the season. We are not even midway through the season yet. We still have a long way to go, but will try our hardest to maintain a high position on the table so we can reach our desired goals.
100%.
Farmani: I wanted to add something, I saw this in your comments, but I thought maybe you did not want to ask me. I get a lot of messages and comments asking me why I haven't been invited to the national team. I didn't want to make a post or story regarding it, but I think right now is a good time to clarify the situation. Since playing in Belgium, I've missed a few crucial games for my club. I was with the national team for about two months, and the club were very nice in allowing me to miss the first three games of the season to attend to my national team duties. Currently, I can only participate in the national team camps on FIFA days, and the camps are very intense due to time restraints. Therefore, we are discussing various solutions with the Iranian Football Federation to see how I can join the national team camps again and help out the team.
Would this cause any issues in regards to your participation in the Asian Cup?
Farmani: The thing is, even the Asian Cup isn't scheduled on FIFA days. I've already discussed it with the club, and they have accepted. I just need an official letter from the national team so I can join the rest of the national team players.
I hope those in charge take the necessary steps to ensure you are included in the national team squad for the Asian Cup. Any last comments?
Gholizadeh: Thank you so much for having us. I hope all the fans have enjoyed. I want to thank the podcast for taking the time to interview us.
Farmani: Thank you so much for bringing us on. Thank you for trying to promote women's football in your interview, as well as putting together this great interview and getting questions from fan pages and other fans. I hope we were able to adequately answer all the fans' questions. Thank you for having us!  
Thank you for coming on. Thank you fans for listening to our podcast. If you enjoyed, please don't forget to like and subscribe on the platform which you're listening to, either on YouTube, Spotify, iTunes, Google Podcasts, Soundcloud, or Castbox. Follow our social media pages on Instagram, Facebook, and Twitter. Please visit our website at golbezanpodcast.com for more content. Thank you for listening, till next time!