04.04.21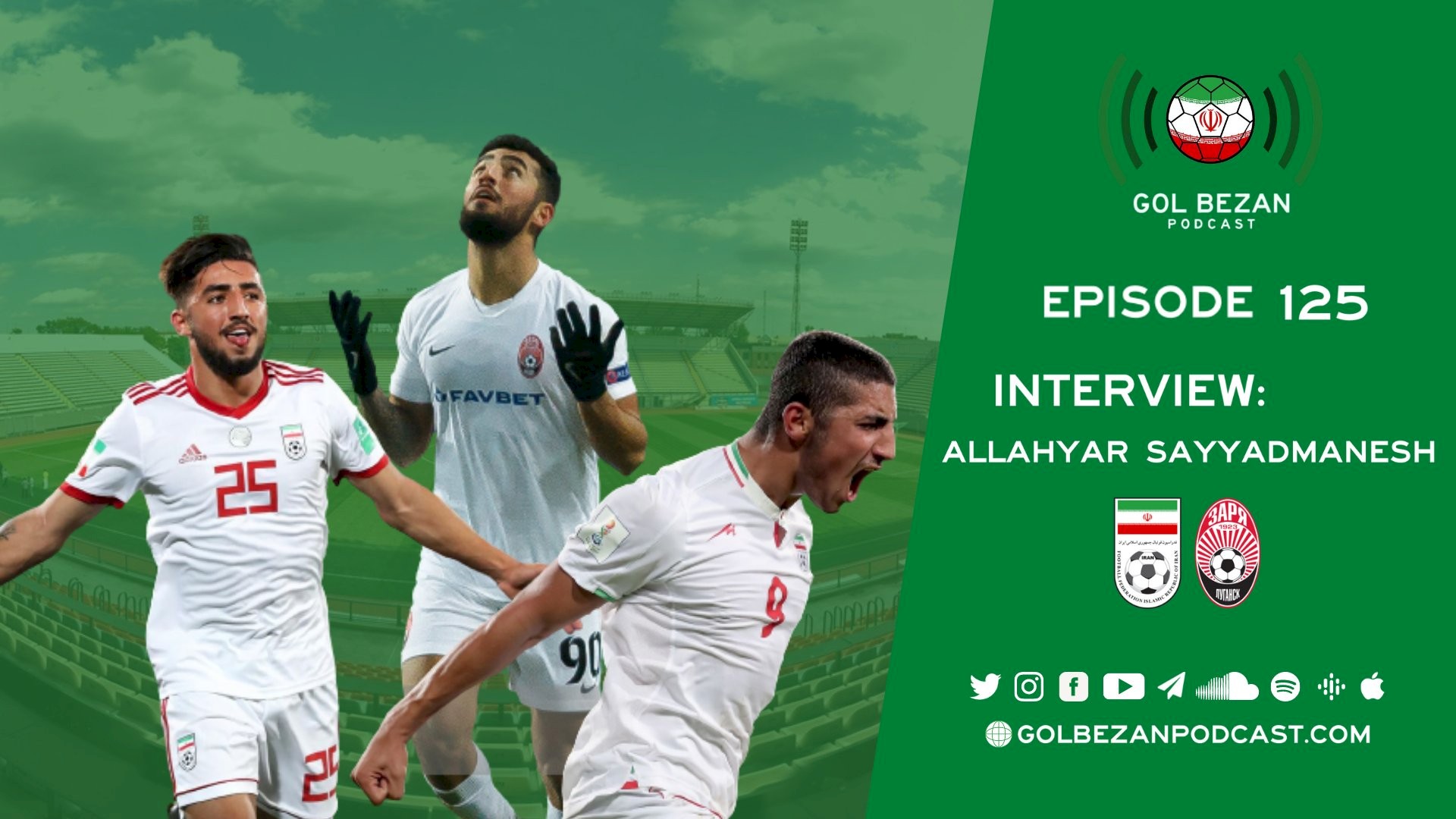 Written by Sahand Salari - @salari_sahand & Armin Pishro - @Arminpishro
Graphic by Mahdi Javanbakhsh - @mativsh
To listen to the interview in Farsi click here
Firstly, what is the Coronavirus situation like in Ukraine?
I thinks its similar to other countries, its not great at the moment however I have noticed that Ukrainians are taking less care. When I first got here, I noticed very few people wearing masks, I thought maybe there is no COVID-19 in Ukraine.
How has COVID-19 impacted your training sessions with Zorya Luhansk?
In terms of COVID-19 we train in the same facilities however 2 days before a match all players and staff are tested for COVID-19.
You come from a wrestling background; how does this impact the way you play Football?
The impact from wrestling itself is little but the family genes definitely help me with my pace, stamina and strength which are crucial in football, so yes, my family genes have helped but the wrestling background not so much.
Your youth career started with Arash Amol, Padideh Sari and then Saipa, how would you describe your time at these clubs?
I started at the age of 5 for Arash Amol and from the age of 9 I started to play in county level competitions, our team would always win in the county of Mazandaran. It was great times; I'm sure footballers would agree that youth football can be very enjoyable as it's something you enjoy and also its just the start of your career. I then moved to Padideh Sari where I played for their youth team in the national league.
You then went to the U17 World Cup in India playing against strong countries such as Germany, you even scored against Germany, Guinea, and Mexico. How would you describe your experience?
It was my introduction onto the bigger stage, it was a good experience. We had a very good team, staff and head coach - Mr Chamanian. Everybody worked very hard and had one heart and that's why we were able to do so well and finish 5th in the world. It had a long lasting impact on me and allowed the new generation of Iran to show themselves. I hope the same for the upcoming generation, or even more.
Next you moved to Esteghlal and had a good season in the league, matching yourself well with players such as Mehdi Ghayedi. What can you say about your time?
I'm sure people are aware Esteghlal and Perspolis are the 2 biggest clubs in Iran and I was excited to be part of one, I was really happy to have had a good season but unfortunately, I picked up an injury leaving me out for 4 months. I thank my manager at the time Mr Schafer as he rewarded me for my effort, he took a risk in promoting me to the senior team, some managers may have not done the same and therefore I am happy to have repaid the favour to an extent. I had a really good year with Esteghlal, I am happy to have been able to spend a year there, me and Mr Schafer are still occasionally in contact.
You received an offer at 17 from Turkish club Fenerbahce, how was your feeling about moving to the Turkish Giants?
Firstly, I must say many people speculated that I was faking an injury in order to push for a move away from Esteghlal, this was false. At the age of 17 I wasn't allowed to sign a contract, in fact I had to wait a month after the end of the season before I could finalise my move to Fenerbahce. The move to Fenerbahce didn't surprise me in regard to the size of the club, this was because Esteghlal is as well supported and as big as Fenerbahce so that factor didn't blow me away. However, to move to Europe was definitely an exciting factor as it was a step up in standards.
You started the season with Fenerbahce before going out on loan to Istanbulspor, you received an international call up from Marc Wilmots and debuted vs Syria scoring a goal which is huge as you became the youngest player to score for Team Melli.
After the league finished, I was delighted to receive a call up, every footballer dream of playing for their country including me. It was one of the best feelings I've experienced to score on my debut and to become Team Melli's youngest goal scorer.
You are naturally a striker, when you received an international call up you trained with players such as Azmoun, Taremi and Alireza Jahanbakhsh. How did you feel about training with these players at such a young age and how did they help you?
All the players you have mentioned are great players who are doing well for their clubs but I never shy away from competition between the players, in fact I like it, even now in my current club there is competition. This stays on the pitch, off the pitch we are all friends, I believe that competition is crucial for progress because you would become complacent without it, if someone is fighting for your position you will both try and improve to win that position. In my first call up the team spirit was great, I really enjoyed it.
Allahyar, this summer you transferred to Zorya Luhansk of Ukraine. How did this transfer come about and how is your situation there now?
In the summer I decided to leave Fenerbahce and accordingly communicated this to the club. I made this decision because I am a young player and need to play many minutes so I gain the experience necessary for my improvement. Due to this, we made a decision and picked Zorya because it was both a strong team and in the past years had transferred many players to bigger clubs. Even last year they transferred a goalkeeper (Andriy Lunin) directly to Real Madrid. They also were participating in the Europa League. So I decided to come here and in the first half of the season we performed well in the Europa League and domestic league. We are 3rd place in the league with a game in hand, 7 points behind first place, and 6 behind second place, and the game in hand is a very winnable win. We are in a strong position and our target is to be runners up or champions, which would be a historic achievement in Ukraine where Shakhtar and Dynamo Kyiv are the dominant teams and always finish in the top two positions.
When you transferred to Zorya did you have other offers, was this in your opinion the best choice at that moment?
Well I was a player that had practically not played for a season due to my situation at Fenerbahce. Certainly I had other offers but obviously it is impossible for very strong offers to arrive for a player who hasn't played for a year. I had one offer from Portugal, a few from Turkey, one from Belgium, and 2 from Ukraine.
In general, it seems from the matches, the teams, and the starting elevens that the Ukrainian league is more geared towards young players and their development than the Turkish league. Is this a difference that you have been able to notice clearly?
Exactly as you explained, teams try to use younger players. In our team of 25 or 26 players, at least 21 are under 25, only 2 over 30, and only a few between 25 and 30. Of these I am the youngest (laughs). I think it's very good that they place such an emphasis on young players as they can improve and also provide a source of income for the clubs from subsequent sales. In Turkey this is very rare in the big teams which always gravitate towards purchasing well known players for big fees. As a result they have to play them and younger players are marginalized.
Do you currently speak English in Zorya or have you learned some Ukrainian?
I have not learned Ukrainian, but also many of the domestic players cannot speak English. Us foreign players generally speak English to one another. However, all the players, including the Ukrainians who speak little English, have a very friendly and warm relationship with one another. This friendly atmosphere is also present amongst the staff and entire club.
This year you played some games when you first arrived, but it was really the match against Leicester City in the Europa League where you scored and really shined in the 15 minutes you were on the pitch that your name once again reached the ears of Iranian football fans. How was this game and scoring that winning goal for you personally?
Well first of all it was a new experience playing in the Europa League. It is one of the highest levels of football and I am really happy that I was able to experience it. I really wanted to play and score and I'm delighted I was able to do so against a great team like Leicester City. But when I play it is honestly not important who the opponent is. First of all whenever I take the pitch I try to carry out the tactical instructions and my own targets to the best of my abilities and help my team.
This season you have played on the wing and as a central striker. How do you view these positions and do you prefer being the target man or playing wide?
Well I can play as a central striker or on either wing. In most games we play in a 4-4-2 and 4-3-3. In the 4-4-2 I play as a striker, in the 4-3-3 as a winger. I am ready to play wherever the coach asks and wherever best helps the team. Personally, I prefer playing as a wider forward (in a 4-4-2) then as a lone striker, but more generally prefer to be up front rather than wide.
In this winter transfer window another Iranian player was added to your team : Shahab Zahedi who is currently one of the top scorers in Ukraine with 9 goals joined. What was your reaction to this transfer and how is your relationship with Shahab?
I had known Shahab from earlier, we have been friends for a while and he is the top scorer of the league. In fact tonight I am at his house for a get-together! When he first joined the club he stayed with me until he moved into his new house. I was very happy that a fellow Persian speaker and countryman joined. This can be very positive for both of us as we can communicate well, our team plays 4-4-2, and we can play up front together. Off the pitch we also have a great relationship and can help each other away from football. Before we were alone in our free times, Shahab in Kyiv and me here, but now we can spend this time together and I think it can be a great year for both of us.
Earlier you made your international debut against Syria, scoring in that match. Currently Team Melli's position in World Cup Qualification is not so strong. How do you see the current situation and do you believe we will make it to the World Cup or not?
Well right now in the group we are 3rd, but nothing is out of our hands. As long as we win our remaining matches we can advance and I think this is an achievable task. If invited I will give my life for my national team and if not I wish for them to be successful.
What wishes do you have for your future?
Well everybody has goals in their life and I for sure do as well. I think that nothing is out of the realms of possibility and human beings can reach their goals, this is my sincere belief. Of course all footballers wish to play in the top 5 leagues and I have other bigger personal targets but at the moment all of my focus is on finishing the season here. Then I have another half season on my contract (with Zorya) and I hope that until then I can work well and show myself until then. After that, I will make another decision for my future.
Your position is very crowded with Sardar Azmoun, Mehdi Taremi, Shahab Zahedi, Kaveh Rezaei, Karim Ansarifard, Ali Alipour, etc. What do you think you need to do in order to convince Skocic and get yourself into the squad?
Well like I have said, it is true that it is competitive and I have no fear of competition. Outside of the pitch I am friends with all of them and none of us are afraid of competition. Football is the place for healthy competition and you must show yourself, without such competition there is no football. I just try to do my best this season and the rest is up to the opinion of the coach, I am not sure exactly what he is looking for.
What is your personal physical training away from the pitch to help your overall game?
Well away from practices I have my own personal trainer who helps me with strength conditioning and recovery. We work together via Facetime and in person. He also helps with my nutrition and provides additional exercises which I follow in concert with our team's regular schedule.
Now a fan question from @FootballScoutIR on twitter, what is the difference between the Persian Gulf Pro League and the Ukrainian League?
Well most of all the tactical and technical quality of the matches is much higher in Ukraine. Also the physicality is a big difference.
What do you miss from our domestic league?
The fans.