06.07.20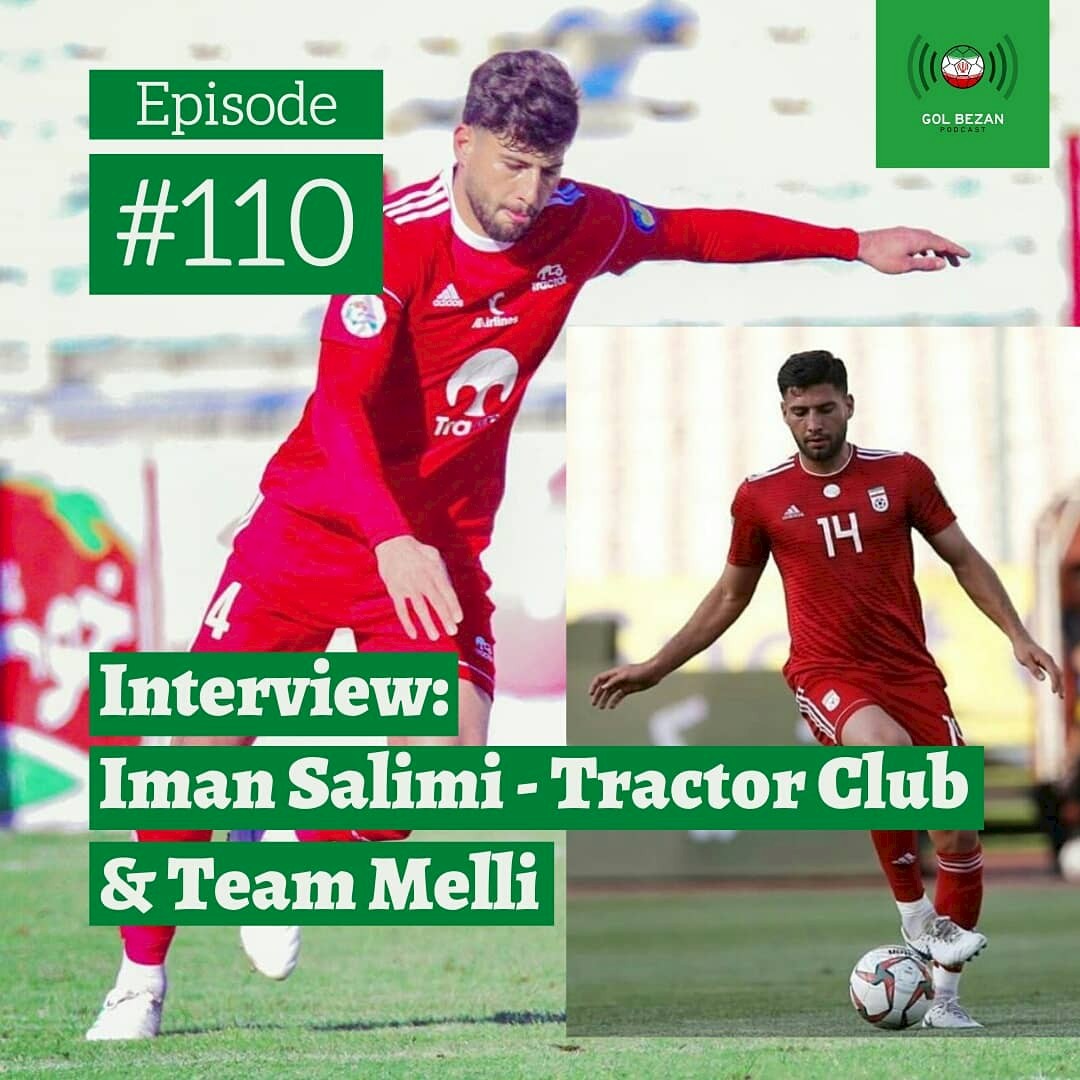 Written by Sina Saemian - @Sinaa_sa
To listen to the interview in Farsi click here
Hello and greetings to all of our dear listeners, welcome to Gol Bezan podcast. today we are joined by the lovely Iman Salimi, Tractor's 24 year old centre back. A player who has the ability to play for the iranian national team and even moving to a European club.
Iman, thank you for giving up your time for us, go ahead.
Thank you and I would like to also say hello to the listeners of your great show. Thank you for this conversation and I hope it is enjoyable.
Okay Iman let's start with the Corona situation in iran. how has it been for you?
Well, the situation with Corona is one that has affected all countries and not just one country. As you know, for around 2 months, all industries and sectors have been impacted by this and football has been similar where they decided to cancel the games from the beginning. I think it was the correct decision, similar to the rest of the world. Us players were also in lockdown and didn't leave our homes, until slowly the rates and numbers were reduced until things get back to normal.
You are currently in Tabriz Right?
Yes, from today it has been around two weeks since our training has restarted under special circumstances with small groups of 5 or 6 players training separately so that we can keep our physical shape.
Well, tell us a little about yourself and your football. How did you start football and where in iran are you from?
Right, I was born in 1996 and I was born in Kermanshah. Due to my dad's working conditions, as he was a clarc in the Navy, which meant we had to live in Bandar Abbas. I was there from an early age, from primary school and I started in the local grassroots teams and once I reached the age of 16 and 17, I started playing for youth teams of Aluminium Hormozgan and I was active there. It was a good experience for me and I moved there from the youth team to the senior side.
Now, who do you support? Putting aside Iran, in europe who do you support?
From a young age, I enjoyed watching Real Madrid's games. It was an attractive team for me, Real Madrid always been my first team.
So you must like Sergio Ramos because he plays in the same position as yourself?
He is 100% a defender that no one will forget for years to come, his playing style and his quality.
What about Iran? Who do you support?
I support the team that I play for. I really like Tractor.
You mentioned Aluminium, which you went in 2013 but then from there you moved to Fajr Sepasi Shiraz. Tell us a little more Fajr Sepasi. Your first manager there was Ali Asghar Kalantari, and then Bahram Shafiei and also Gholamhossein Peyrovani.
I've not really had an opportunity to speak about it but I will never forget that period because it was a very important decision. I had the opportunity not to attend military service and continue my education and stay in Aluminium Hormozgan with much better conditions, from a financial aspect and the number of games. It was a great situation for me there because I had experienced a number of games at such a young age. The club insisted that I do not go to military service and stay but from the advice that I had received personally, I made the decision to go to Fajr Sepasi (to complete military service). There was so many good players at the club at the time, that I had to trial for 3 days under Mr Kalantari and he chose me at such a young age. Really it was a important point for me to get into a good situation but a very hard challenge. I have always said that it is the hard challenges that has helped me to become better. I completed the 2 years of military service at Fajr Sepasi. It was a fantastic 2 years for me.
You mentioned there was some good players at the club, who were the players?
Look, most players will remember this, the year that I entered Fajr was the year that the issue of fake completion cards was revealed (where some players had a fake completion card) and there was a lot of players. Every team had an allocation, some players were moved to Tractor, some were moved to Malavan and the rest of the good players had to join Fajr Sepasi. I even remember almost 20 of our players that year had played in the top division the year before. Mr Mehdi Karimian was our captain and he was very experienced player who played for some of the biggest clubs in iran. Reza Taheri, Farhad Salari, Ahmad Hasanzadeh who was invited to the national team. We were a great group and our manager was Mr Kalantari. As I said, even though I was young and didn't get a lot of game time, it was a great experience for me and great year for me and worked with some great players. We even reached the play offs for promotion but didn't get an ideal result.
After Fajr Sepasi, you moved south again with Pars Jonoubi Jam who was managed by Mehdi Tartar, who is a well known manager in Iran. Tell us about the time in Pars?
Yes my contract with Fajr was for two years and it had ended. and at the time Pars were promoted to the top division and were looking to strengthen their team. Their manager, Mr Tartar, was a manager who was extremely smart and young, and it was a team that understood football. Through the conversations we had, even though I had offers from other top division teams, I spoke to him personally and he had a positive outlook on me and he put a great tea together and it was a good choice and I am very happy with the decision I made. Because it was a year that I learned so much from him and assistants.
It was a great season for you, even a video was put up of you on YouTube which was seen by a lot of people and from there I think most people knew who you were.
Yeah it was a fantastic season for Pars and young players like myself. I really had a great year and I had focused on my game entirely. As I said, the good games that we had, collectively and individually, caused me to be seen as one of the best defenders of the season as well as one of the breakthrough players in the season by a lot of the experts and Navad programme. I had a great feeling and conditions that year, under the guidance of Mr Tartar and his assistants helped me have a great season. Mr Tartar was one of the most influential coaches I had from a technical aspect, and he really helped as I have said many times.
 
And, after that season you had in Pars, you trained with Braga, a club in the Portuguese top division. So tell us about that. What happened?
Well I haven't had a chance to speak about that. That club had watched me and knew that I was a free agent, and I even spent a month in Portugal. But it was a year that international football was very important and I would've liked to play more games because of it, so at the last minute I decided not to stay there and return to Iran, so that I can return in Europe, which is definitely in my plans, in better conditions and with more experience.
I know that after you went to Tractor, but what was Braga's coaches opinions and views of you?
Well I had reached a position where they had incredibly positive views of me. The only problem was that they couldn't leave out a player from their squad as he had a contract with them, and they had a few financial problems too. The only solution was for the player to leave the club but unfortunately that didn't happen. We even stayed until the last moments in the transfer window, but the player had decided to stay at the club. I still could've chosen to stay and play a season out on loan but I chose to come back to Iran so that I can continue in a good condition.
And then from there you went to Tabriz. So you went from south of Iran right up to the north to Tractor.
Yes whilst I was I was in negotiation over moving to Europe, I had a lot of good offers from Iranian clubs due to the performances I had with Pars. From great clubs such as the Tehran clubs and another one of them was Tractor's offer. My entire plan at the time was to play in Europe and I would've liked to follow new challenges there due to my young age and I had told all Iranian clubs, coaches and chairmen, who were really nice to me, that my number one priority is to play in Europe. The move to tractor, I had discussed it with my friends and directly with Mr Zonouzi too. He is a very positive thinking person and has a very professional mentality. We had a conversation and I decided to move to Tabriz to continue my path.
And of course you worked under a great British coach in Tractor, John Toshack. Tell us a little more about, he didn't stay for long but what was he like in that short period.
Well when I arrived, a few games had already been played. Mr Toshack is an incredibly great manager, as is his CV and the way he operated. The problem was that he wasn't familiar with Iranian football where the teams play very physical and aggressive, and teams are familiar with each other. He didn't get good results at the beginning and he got to know the team a little late and after 2 weeks that I was there, he left. But whilst I was with him, I had a good feeling of working with a great manager like him.
At Tractor, you worked under big managers. George Leekens was a great manager in belgium, Mustafa Denizli and even Mohammad Taghavi who got his coaching licenses from England, and now that you have Saket Elhami in charge.
Well tractor is a big club with a huge fanbase. And the owner, Mr Zonouzi, always thinks big and always is after the best on the pitch and on the touchline and that's why he has always been after the big managers. As I said he always goes after the best.
Now, in this season you have had a good season where you are third in the league and you played in most of the games alongside Khanzadeh, Reza Asadi and Meysam Teymouri in defence. What are your conditions in the team?
Well this is my second season and last season I also had a good situation based on the good team that we had. Last season I played very well which resulted in being called up to the national team. And I was in a situation where I I decided to stay for one more season despite the offers I had closer to start of the season. i would've liked to stay for one more season here to gain more experience and I am in a good place. We had good performances this season, we had some good and bad results but overall it has been good and I hope that we can continue the good results in the 9 remaining weeks if the competition does resume.
I have personally watched a lot of games from Tractor and especially you, and I saw that you are a player who has a good understanding of the game. I think one of the important things is that we lack some good young centre backs. There Majid Hosseini who plays in Turkey, Pouraliganji who is more experienced at 28 years old, and Hossein Kanaani. But overall our defenders have been a little older. This isn't a bad thing but Queiroz wanted to slowly bring in younger defenders which happened when Jalal Hosseini was left out in the World cup and Montazeri who retired internationally after the Asian cup. We always said Salimi is a good defender who should be invited, Hossein Moradmand from Shahr Khodro too. What do you think the situation is for a young defender in Iran?
I personally believe national team is a place for anyone who is in good conditions in every sense and have great quality. And I have always wanted to keep in good shape and conditions, with extra training sessions and performing better. And all players you named are very good players for their positions and have played there for many years. Majid is a close friend of mine and we have been together since the youth teams in the national team and keep in contact. The players are all good quality and it depends on the manager and their taste based on their system who he invites and that is respectable.
Now with Corona in iran the situation is bad. The league is set to restart in two weeks. What do you think? Do you think the league should go ahead or not?
In my opinion the circumstances in iran are special, it is not like we can say we can control the situation like first world countries, whether in sports or not. This is a dangerous situation and if it is not controlled the lives of a lot of people will be in danger. Definitely all footballers have families and live with them, and that stress will be for their families too. If god forbid, anyone in any team catches the virus then a lot of people will be involved in this. Most teams don't have the financial capabilities to undertake these tests every 5 days. It is a difficult decision and I don't know it will go but it will be difficult decision.
 
And who is your first game against?
We are playing Nassaji in Tabriz
Another thing the fans of national team find interesting is that Ashkan Dejagah, Masoud Shojaei and Ehsan Hajsafi, the 3 captains of team melli and 3 players who've given great service to the national team, play for Tractor with you. How has it been for you to play with these players?
For any player is a great bonus that their team has such quality players, and players with great experience especially for younger players. Players will learn everyday playing with these players, who have all played in Europe. Ashkan was in Germany, Masoud in Spain and Ehsan in Greece. From my personal perspective, it has been really enjoyable to be alongside these players with this quality of playing.
Not just these 3 players too, Tractor have other great players such as Mazaheri, Khanzadeh, Sasan Ansari.
Absolutely, I said it earlier, the ambition of the club management in recruiting great players has had a positive impact on the club. We have seen last season and this season great players have been brought in and next year will be the same. And even alongside these players, our youngsters will develop too.
 
Let's discuss team melli from your own experience. Last year, under Marc WIlmots you were invitied to team melli where you played against the Iran U23 team. How was this experience? Whats your opinion?
Mr Wilmots, in his 2nd training camp, wanted to invite domestic players who have performed well in our league from each team so that he could see them up close, and that is what happened. Good players with the best performances for their clubs were invited and I was one of them which I was very happy about. It was a short camp of 4-5 days with the aim of getting to know the players better, and there was a friendly which I played the entire match and I was the only one who was not substituted in this game.
From then on you weren't invited until Wilmots left, and I will speak to you about Skocic too but I want to take you back and discuss Carlos Queiroz with you. In my opinion, he was a great asset to Iranian football as a whole as we went to two world cups. What is your opinion on him?
Absolutely, Mr Carlos Queiroz was a great coach and it is obvious from his resume and places he has worked. He had a great character and he provided so much service to Iranian football, he developed our position and it is clear the results we had with him and the great performances in the world cup. There was some problems that caused him to leave but I think if he stayed, he would've introduced another new and quality generation of footballers to team melli
In that period, was he ever in conversation with you?
My first year playing in the top division was the year that he left so there wasn't much of an opportunity for me, especially because he had created a solid squad after working on it for 4 years in preparation for the world cup.
You mentioned that iran had good performances in world cups, against Argentina, Portugal and Spain. Tell us from the perspective of a defender, how do you think iran defended in those games?
Some people think playing defensive is so simple, they think it is just about bringing 11 players back and defending. It really is not like that, Queiroz's system was very difficult to play in, understanding the space, the roles and the way the team pressed in certain areas. You look at a great team like Spain and they really struggled to create clear cut chances. He was a coach that was fantastic from a tactical point of view and he had a good knowledge of other teams tactics and formations. He ensured that the team technically was in a great place.
If we return to the current situation, Dragan Skocic is the new manage of team melli. What do you think of your future in team melli?
Of course everything has been impacted by Coronavirus as there has been no training camps or anything, and it is difficult to predict the future too. Personally, I have big goals and I work everyday to achieve them and I am sure good things will happen as I am very optimistic.
When you were in team melli under Wilmots, Vahid Hashemian was also present as the assistant coach. How do you think he will help team melli?
Of course he can help a lot, he is experienced and knows the players and of course he was a very good player himself so he can help the team get good results which is what we all want.
I know that you had an offer from a Greek club called OFI Crete, what happened with that offer?
Well like last season when Braga were watching me closely, this season there has been a few teams that followed me too and were in contact wth me and my agent. The team in Greece sent an official offer and also spoke to the club but considering the short time we had at the time to the start of the season, the manager at the time Mustafa Denizli and the club management wanted me to stay and play this season and I also preferred to stay due to the short notice.
 
Did you go to Greece?
I didn't go but they were in contact with my agent and the club.
What do you think about next season? You will remain at tractor or you will move to Europe?
I have always said I am looking for new challenges. Tractor is a huge club and if I stay in Iran then Tractor will always be my first choice and priority because I have a great feeling here. I hope that I can move from here to great clubs and great situation and pursue my personal ambitions too.
Which country or clubs would you like to move?
I personally love the Spanish La Liga, I really like the way they play football and the quality of the players and games. This is my preference but I am happy to move to anywhere that will help me develop and provides a good situation for me.
Thank you Iman for coming on our podcast and the time you have given us. Do you have any final words?
I also would like to thank you for this conversation, I said things that maybe I haven't had the opportunities to discuss in the past in my previous interviews and I hope it made for an enjoyable listen to all your listeners. Thank you.