21.01.21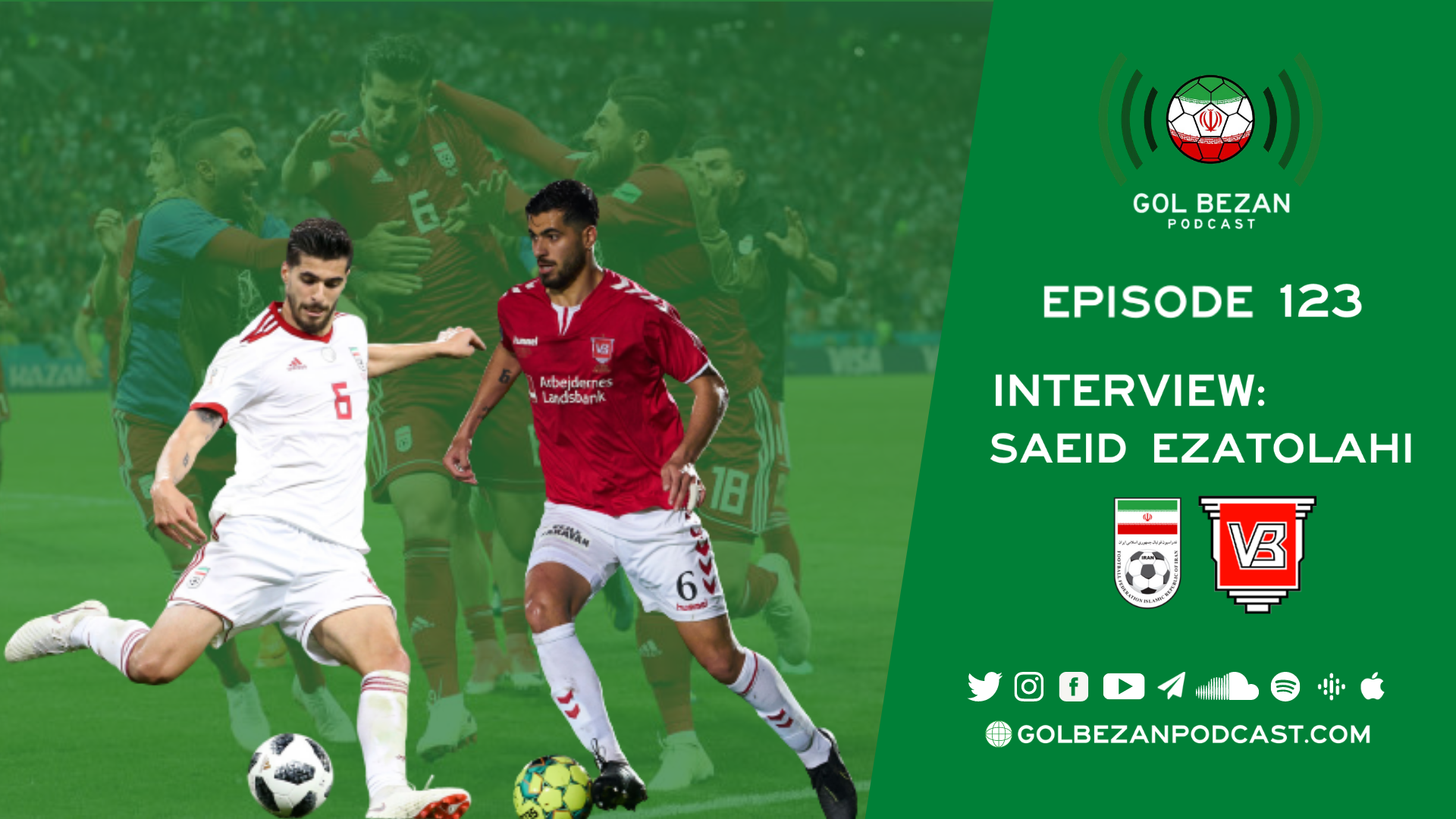 Written by Sahand Salari - @salari_sahand & Kian Bonakdar - @KianB575
Graphic by Mahdi Javanbakhsh - @mativsh
To listen to the interview in Farsi click here
We are very happy to be joined by Saeid Ezatolahi of the Iranian national team and Denmark's Vejle Boldklub. Saeid the first question I'd like to ask you is regarding the Coronavirus. How has the situation for you been in Denmark?
The entire world has been fighting this virus to varying degrees. One thing that we can all agree on is that we have had a difficult year and this virus affected many things including businesses,work, football, and everyday life. I hope that a solution will be found as soon as possible, god willing, so that this virus can be stopped and people can go back to their regular lives. In Denmark the prominence of the virus has grown recently, leading to many concerns and lockdowns. I think within the last 20 days they have started distributing the vaccine and I hope it is effective.
Your team's next game is in 3 weeks against AGF. How are preparations going for the second half of the season?
Yes, we are currently in training camp with 2 to 3 sessions per day, working hard to ensure we can obtain good results in the second half of the season. AGF is one of the best teams in Denmark with a strong reputation. It will be a hard match and our team is a young one with inexperience that has affected us negatively in the previous games. But we are working on our weaknesses and hope to show ourselves better in the second half of the season and achieve acceptable results.
I wanted to ask about your earlier experiences in 2013, with the U17 team that included Ali Gholizadeh, Majid Hosseini, and Sadegh Moharrami. How was that time for you?
It was truly a good time for all of us. We have many talents in our country, not just in football but in all professions. From that generation we had many good players. Perhaps us 4 are most recognized today because we play for the senior team but I believe we had many players capable of making it to the highest levels of Iranian football but were unable to do so. This is part of football and always a possibility for young players. As I say it was a good time, we made it to the U17 World Cup. It was our first international experience and I believe it was very helpful for players of that age to experience a World Cup. It is a huge occasion and many scouts are in attendance. It can be a good path for young footballers to show their talent and make it to European clubs.
After the World Cup you left Malavan and joined Atletico Madrid at the young age of 17. Describe how it was for you in Spain at such an age?
It was a difficult and important decision to go to Spain at that age. In that time we didn't have many legionnaires, only Jahanbakhsh and Sardar were there from young ages. Before moving to Spain I had never lived without my family. It is really hard in that age to begin a path where you are alone in a new culture and environment, without knowledge of the language, and facing many other problems. It takes time to adapt to the lifestyle and your new teammates. But looking back I believe it was the correct decision because it forced me to understand the difficulties a footballer must endure to reach their goals. My experience in Atletico was big for me. I got to train with the first team, next to players who were playing at the highest level of European football that I was just watching on TV a year earlier. Those experiences helped me in many situations in the future.
In your position on Team Melli we have the likes of Ahmad Nourollahi, Ali Karimi, Omid Noorafkan, Ehsan Hajsafi all playing in the domestic league. I know that Ali Karimi was in Croatia for a while before returning but why do you think we were unable to export more players to Europe that play your position (defensive midfield)?
I think the most important factor for somebody coming to Europe is not to become easily discouraged. First of all, the day you come to Europe you need to let go of some things forever. Things such as who you were in your home country, what team you played for, how many Instagram followers you had, how much support you had from the media and newspapers...You must forget about all these things because in Europe a new chapter in your career and life is starting. The coach only cares about your abilities, tactical awareness, communication with teammates, how you fit into the team structure, how you train, and how you do not become easily discouraged. Maybe when certain footballers come to Europe they believe that the same attention that existed for them in Iran will exist for them in Europe. But this is not the case at all. Not Instagram followers or your country's media can help you. In my opinion everybody's dream is to come play in Europe. The best players from every country around the world may end up competing at the same club as you and if you approach the situation with the mentality that your place is secured and you can be relaxed, you are mistaken. Everything is only related to your performance level. I think this is one factor, that some of the boys who came over quickly got discouraged and tired and wanted to return due to lack of immediate playing time. But it is important to remember that being on the bench and not playing happens everywhere in the world for all football players at some times in their career. With regards to defensive midfield the other problem may be that this position is less noticeable than others.
Is it possible to say that in Iran this position is under utilized?
In my opinion this position is the running heart of the team. In both defensive and offensive duties you are one of the key players of the team. If this element is removed from the team it is equivalent to removing a crucial component of a car; after a few metres it will stop running. However, despite its' importance we are often less noticed than others and become a bit victimized. As a forward if you do nothing for 90 minutes and score an open goal you immediately will receive media attention and a lot of praise. But it is rare for somebody to analyze your game for 90 minutes when you play this position.
Do you think this perception has changed with the likes of Ngolo Kante, Sergio Busquets, etc?
For sure it has changed, but I am referring to the position with regards to our domestic league. We have many talented players in Iran playing this position but it is hard for them to show themselves to a wider audience. As a scout in Europe you are not paying attention to the Iranian league. These talents can only show themselves in national team guys, or maybe in the ACL. Also I believe that unfortunately in recent years players choosing to play in Qatari clubs has been for financial reasons or others, and it has had a negative impact on our football. Many players like Mehdi Taremi, who was lucky enough to get out of Qatar and come to Europe and now plays for a prestigious club, could have shown themselves in Europe too. In my opinion, God liked Mehdi, and he was lucky because I know that his previous coach in Rio Ave (Carlos Carvalhal) knew him from his performance at the World Cup and speaking to Carlos Quieroz about him. But I know for a fact that he was not brought to Europe as a result of his performances in the Qatari league. The games he played in a national shirt were what got him his deserved move.
Precisely. We are also hoping Mehdi continues his great form against Juventus in the upcoming Champions League match.
I also hope he is successful in that important game.
My next question is a bit related, as you say some of the players in the Iranian league may have other priorities such as instagram. You yourself were not after these things...
My point is not necessarily about giving priority to Instagram. I myself am very active on the platform myself. My point is about the footballing dimension. One example is Alireza Beiranvand, who played for a very well supported team in Iran. He himself knows that I really like him and we are in close contact. In my opinion he has a lot of abilities. He is very talented and really deserved a big European move. But when he moved from Perspolis to a smaller European club he should have totally forgotten about the attention and environment created around him by those fans because they were unable to help him when he arrived in Europe. Only his abilities could help him. Now he has been patient and is beginning to receive good match time. I am sure if he gets more time and finds his rhythm he will be one of the best goalkeepers in Belgium.
My next match is related to your debut at the age of 18. At that time Javad Nekounam had just left the team. How did Carlos Quieroz introduce you to the team, help you settle in, and what did he tell you?
Well with regards to introductions right after I finished my season at Atletico we had a camp that had two groups. I didn't really expect to be invited to the camp at all. Suddenly I saw that my name was on the list and it was a very strange and excellent feeling to be invited at that age. I was just focussed on showing myself in the training sessions so the coach would give me an opportunity to show myself in the team. At that time Mr. Quieroz did not tell me anything specific but just allowed all of the players from the new generation such as Mehdi Taremi, me, Alireza Jahanbakhsh, Sardar Azmoun, as well as Mehdi Torabi to show themselves. He incorporated us into the national team setup and we tried our best to perform. The most important thing was maintaining focus to take advantage of the opportunity he afforded us.
I would like to speak about the Russian clubs you played for: Rostov, Anzhi, and Amkar. When you were at Rostov with Sardar Azmoun how did he help you, for example when you made your debut in the Champions League:
Sardar's presence helped me a lot. He had already been in Russian football for some years and had experience working with our manager (Qurban Berdyev). It was our first experience in the Champions League and it was an incredible feeling for me to be afforded this opportunity in my first season in Russian football and help the team secure qualification to the group stages. Playing big teams like Bayern Munich, PSV, Ajax, and Atletico was a big chance for both of us to become familiar with the top level of European football. It was a very enjoyable experience.
We have an Instagram question from Babak Golriz I will read out now. He asks when you left Atletico Madrid to join Rostov did you have other offers?
I did have other offers. In fact before I joined Atletico Madrid Rubin Kazan and this same manager (Berdyev) also made an offer to me. At the time I chose Atletico Madrid. With the knowledge that this coach knew and appreciated by game and could give me chances I decided to join Rostov.
In Russia you had two loans, to Anzhi and Amkar. How were those experiences?
They were both good experiences. Whenever you join new clubs and work with new coaches you gain new experiences. I never got discouraged and had a good time at both teams. When certain issues arose between me and Rostov and I thought it better to join clubs that would give me the chance to play in preparation for the World Cup. I also felt it was better not to stay at Rostov at the time because I had some disagreements with the management. They refused to allow me to transfer anywhere permanently and I couldn't let these years go to waste, so I believe these loans were a good solution.
Yes. What club did you play for in Russia when Iran qualified to the World Cup?
Amkar
You played for Amkar and made the final team for the World Cup, but you were suspended for Iran's first game. What were your thoughts and feelings during that time? How did you feel about missing the first game?
It was really difficult for me. If they were to tell you one week before the match that I couldn't play, I might have been able to cope with it better, but it's tormenting to know for months that you won't be able to play in the first match. I was worried about my place in the squad, given that the coach could've dropped me from the squad for not being able to play in the first game. I think Mr. Queiroz did a huge favor by putting his trust in me. This had become such a mental burden on me that I just decided not to think about it and put all my focus and concentration on my training. I wanted to make sure that I was in the best shape possible for the other two games and put in a good performance that would make up for my absence in the first game. I think that overall, we had a great World Cup, all the players put in their best, and it will go down in history as one of our best performances on the world stage.
Yes, we beat Morocco. You played in the second game against Spain and even scored a goal! It was counted as offside by the referee, but many people thought it was a fair goal. In fact, when we interviewed Mr. Markar Aghajanian he was also of the opinion that it was 100% a goal. How did you feel yourself, in that moment?
I was under so much pressure from the past few months, that when I scored that goal, all those memories of the past few months were flashing past my eyes in an instant. I yelled from the bottom of my heart out of joy. I felt like all the difficulties had finally paid off. I also feel like the goal should've counted. Obviously, in these sorts of situations, they don't like it when star players who play for big teams are eliminated early on from the tournament. Either way, the important thing is that this goal will be in the memories of the fans and myself for years to come. I saw so many videos from fans reaction to my goal after the game and were jumping with joy. It was a shame the goal didn't count, but I will try my best to bring happiness to the fans again, hopefully one that will last this time.
It really was a great game though against Spain.
I think all the Iranians in the world were so proud of the national team after that game. We really weren't playing against any team, this was Spain. When the draw was made, everyone was expecting us to lose to both Spain and Portugal by wide margins, and maybe draw against Morocco at best. But I always said that we could pull off something special, that we wouldn't lose to Spain, and at least end the game in a draw. In fact, we would have drawn against Spain if it wasn't for that unexpected goal. We even missed a few great opportunities. But that's football for you, it has both beautiful and sad moments. Hopefully, we will do our best in the upcoming qualifiers and qualify to the next stage, and please the fans with some good performances in the next round.
Do you still dream about that goal against Spain?
Memories of that goal flash by my eyes almost all the time! I especially see the highlights show up a lot on Instagram. It's a bittersweet memory really, but either way it's something that has become a part of my resume now.
One of our podcast members, Cameran Alavi, was in the stadium when you scored that goal. He said that he jumped up from his seat and ran to the top of the stadium when you scored the goal! He was really heartbroken when the goal was called offside, as were many Iranians, especially those in the stadium. A shame it didn't count. Go ahead Sina, next question.
I wanted to ask you a bit about the game against Portugal. What are your thoughts on that game?
Well, the game against Portugal was a really difficult one since both teams were fighting for a spot to qualify. Portugal was coming into the field with a lot of pressure and high expectations as the current European champions, since they had won the Euros. I think that maybe if we hadn't conceded that goal in the first half, we might have ended the second half as winners. The Portuguese players had much more international experience than our players did and were able to qualify despite the draw. Regardless, it was a great experience to play in front of star players such as Ronaldo, Pepe, Bernardo Silva, and many others. It was a great and positive experience.
It was a really good game too, all the Iranian players played really well.
It was a great tournament for the whole team, I think. We really instilled a feeling of pride in the national team among the fans with our performance. I think we were able to meet expectations with our performances, but we were unfortunately met with a bit of bad luck, which kept us from qualifying to the next round. Overall, it was a great tournament and a great experience for all the players. Our performances opened a lot of doors for some of the players. I hope we will continue to get such opportunities in the future as well so we can make our fans happy.
The whole world witnessed that Iran can play really well. My next question, did you get any other offers after your performances in the World Cup?
As far as offers go, I had offers from Standard Liege, a very serious offer from Club Brugge, an offer from a Greek club, I think it was Olympiacos, and from Reading. However, since I had a contract with Rostov, nothing was up to me. It was all up to them, whether they wanted to sell me or not. As far as I'm aware, they weren't able to reach a deal with Club Brugge over transfer fees. As for Reading, their coach contacted me directly and this was very important for me, as I wanted to go somewhere where I could get a lot of playing time and be in an environment where they have faith in me and my abilities. In the end, I was sent on loan to Reading with an option to buy.
Yes, I remember your time at Reading very clearly. I follow Southampton, and I remember that you played alongside Josh Simms. He played very well for us. When you were at Reading and Eupen, you had an injury that lasted quite a while before the Asian Cup. What was the problem?
After I transferred to Reading, everything was going perfectly at first. I was starting in the matches and everyone was pleased with my performances. I was garnering a lot of attention while I was there and had put in some good games with the Reading uniform. Then, we had a training camp with the national team in Tehran, and I unfortunately tore my hip tendon. I returned to England and got an MRI. I talked with a few specialists and they advised that I should stay away from football for eight to ten weeks. I was very unlucky to pick up that injury, as I was in the peak form and at the top of the game. It was a very untimely injury. After around 9 weeks or so, I was close to return to group training sessions, but I unfortunately got injured again in the same area, which led to me being cut from the Asian Cup squad. However, once again, this is football, and all these things are a part of it. Even the biggest players get such unfortunate and untimely injuries. It was out of my hands and all I could do was hope for a speedy recovery.
Yeah, I remember very well. Sahand Salari wants to ask what changes you went through as a player or mentally after your injury.
Well, thankfully I had never picked up a serious injury like that until then. I hadn't even used an MRI machine up until then, but I ended up having to use it maybe over 6 times after that injury. My viewpoints changed on a lot of things. When I was injured, many people I considered to be close to me didn't even call to check up on me. It showed a lot about those around me. I also learned that in football, you can go from reaching the peak to plummeting to the bottom at any second. An injury can change everything. This is why I now believe that we have to be very humble and down to earth in our lives and careers. We should refrain from being arrogant I think.
Thanks, on to you Arya.
After that, you transferred to Belgium alongside Omid Ebrahimi. How did Ebrahimi help you there at Eupen?
Yeah I forgot to mention that Eupen was also one of the clubs that wanted me after the World Cup. This was when Mr. Makélélé was their coach, the same time that Morteza [Pouraliganji] was also there. In fact, Morteza was very keen on having me there as well, but by then I had already made up my mind to accept Reading's offer. Later, I went to Eupen on loan since the technical staff had been keeping tabs on me for a while and were familiar with my game. Unfortunately, I ran into a few disagreements with the head coach and also picked up some injuries that contributed to my lack of playing time there. I did eventually make my way into the starting line-up, but unfortunately the pandemic hit and the league was suspended. I even gave an assist before the league was suspended.
And what a pass it was too!
Yeah, unfortunately the Coronavirus pandemic hit and the games were all canceled or postponed. In that time, Omid's presence really helped me. The city that Eupen was located in was a really small and quiet town, almost like a village. Therefore it was good that Omid and I were there together, especially since Omid's wife couldn't come due to visa issues. We spent most of our time together and I think it was a good time for us. Omid's presence was definitely a positive for me.
After the league ended, your contract expired and you were without a club for a few months. Well actually, you were with Rostov still but your contract was nearing its end. Everyone was wondering what you would do and where you would go after your contract ended. Eventually, you went to Denmark. How did that transfer happen in the first place?
I was discussing with my agents about the clubs which had put offers forward for me. This team however had personally come forward for me on the request of the club owner. There was also the issue of Rostov's approval, so any club that wanted me would also have to get Rostov's approval first. I had some long discussions with both the club owner as well as the coach. I think I had really reached a point where I had no room for errors anymore, and I really wanted to get out of my lengthy contract with Rostov. I felt that this new club had all the things that I needed to regain my confidence. And now I am playing football in Denmark, and I must admit, the level of the league is much higher and more difficult than I had expected.
Thankfully, not that you are playing for Vejle Boldklub, you have established yourself as a starter in the club, and have also found your way back into the national team. These are all positives! You even scored a goal or two if I'm not mistaken.
Yeah, these have all been positive events so far thankfully. I actually picked up an injury in our third to last game before the break. I was a bit worried but thankfully it turned out to be nothing serious. I missed a game but was able to return to the lineup for the last game. The environment has been really good for me, and I attribute my two goals to my self confidence which I have really regained at this club. I'm thankful that I've also been able to return to the national team and even provided an assist. However, there's still the second half of the season left and I have to give it my all to ensure that I can help out my team in the best way possible.
Next question. Now that you've returned to the national team, how does it feel to work with Dragan Skocic again? You played under him while at Malavan and I think [Sadegh] Moharrami also played alongside you during your time there.
Yes that's right. With my experience working under him during my time at Malavan, I knew that Mr. Skocic was a very skilled coach from a tactical perspective. He's a coach that really tries his best whether it comes to tactics or opposition analysis, and he can really help our national team. Thank God, we also had some pretty good performances with him in these last two games. I'm not saying we were perfect since it will take some time to be able to fully implement the new tactics and get everyone in sync, but I think that we were able to bring about the changes we needed in an acceptable manner. Unfortunately, due to the Coronavirus pandemic, we haven't been able to get as much friendlies or practice matches as we need to prepare for official games, but we're still very hopeful with this new staff and with Mr. Skocic's guidance and experiences. Hopefully we get maximum results from the next four games and qualify to the next round.
When you were speaking with Arya, you mentioned that Omid Ebrahimi really helped you a lot during your time at Eupen. I wanted to ask you, which other players really helped you throughout your career, whether Iranian or not.
It's difficult for me to bring specific names. I'm personally a very social guy and I keep in close contact with many of my teammates from around the world. This is the meaning of football in my opinion. The exchange of interactions and experiences between the players. I always tried to learn from players who were older and more experienced than me, whether it was in the national team or in my club teams. If I were to bring specific names, I think it would be a bit too much but I can definitely say that all those I played alongside were among the best and I certainly learned a lot from them.
What do you think Iran needs to do in the qualifiers to qualify both to the next round and to the World Cup in Qatar?
I think the most important thing is to re-instill the sense of confidence that we had in the national team, that feeling of victory that was always in the team. There was a time that we lost this feeling after Mr. Queiroz left, but I know for sure that under the coaching of Mr. Skocic, that fighting spirit has returned to the team. With all due respect, I don't think Bahrain or Iraq can take any points for us as long as we are ourselves and we believe in ourselves. I hope that in the remaining games, we give it our all and hopefully qualify to the next round.
We've gotten a lot of fan questions for this interview, and I mean a lot! Many of them are from your own fan pages on Instagram. Unfortunately, we can't get to all of them, but one question that I thought was very interesting from the Instagram page "Saeid Fantastic" is that, if there was anything that you could change about yourself in your career, what would it be?
I actually wouldn't try to change anything, because I believe that everything that happened so far was a reason. It's because of destiny, as well as the help of my family and coaches that I am where I am right now in my career. I'd never thought about it before. I didn't even consider the bitter events and injuries that I had in my career as bad things. Rather, I view them all as experiences that I learned and grew from. That's how life is, there is bitter moments and there's sweet moments, everyone has experienced it. So yeah, I wouldn't really change anything. I think people are destined for certain things, and perhaps I was destined to play in this position as a footballer. Maybe I wouldn't be as successful if I played in a different position, maybe I wouldn't have been able to become a national team player or play for a European club.
Last question from me Saeid. I wanted to ask what the next step is for you. What is your dream club and what are you planning to do?
The only thing I'm thinking about right now is to finish the current season with some good performances and then see what God has planned for me after that. Hopefully after some good performances, then I can start to think about the next steps and about transferring to a better club. I hope that I will be able to improve and reach the level that I have in mind. My dream is to play in La Liga one day.
Thank you so much for giving us the pleasure of an interview Saeid. We really appreciate it. Do you have any final comments?
First of all, I would like to thank you for inviting me for the interview. I also want to give a special thanks to all the listeners for putting in the time to listen to this podcast. I also want to thank everyone who has supported me throughout the years, whether with their messages or with their posts. They really warmed my heart. I hope everyone stays safe and healthy during these times and I hope that we can all get through these difficult times together and live happily as before.
Thank you so much.
Thank you for inviting me.