05.02.22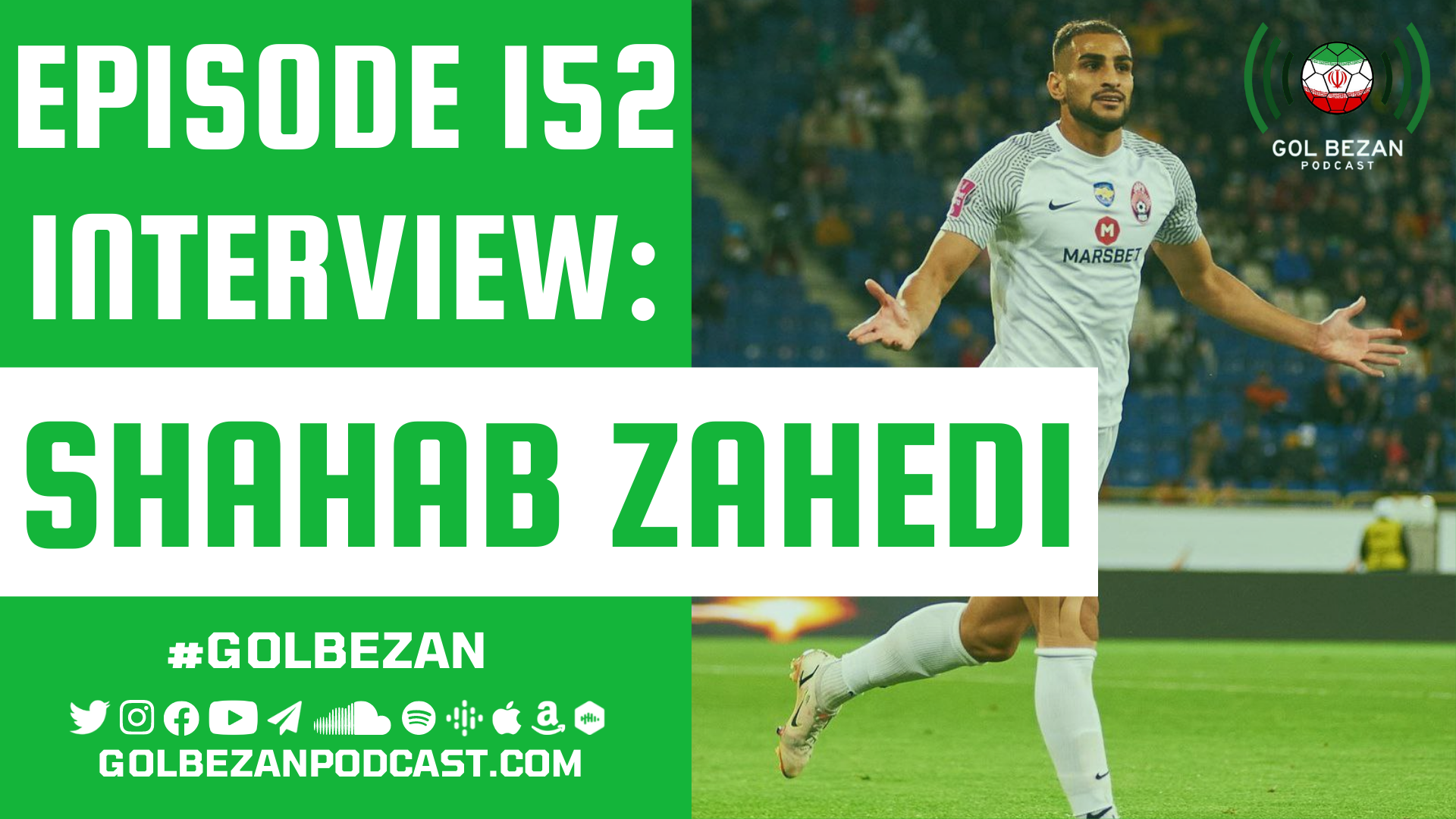 Written by Alex Azarm
Graphic by Mahdi Javanbakhsh
To listen to the interview in Farsi click here
We are very happy to welcome Iranian striker and Zorya Luhansk's Shahab Zahedi. How has the season been so far for you?
We [Zorya Luhansk] had a good pre-season in Turkey. Some new players came in to our team but at the same time others left who were key players for us. As for the Conference League, even though we were knocked out, we are having a favorable season so far.
What has the experience been like playing in the Europa Conference League?
It was a great experience to play against teams that were from different countries over Europe. We were in a good group, but I think but Bodø/Glimt surprised us all. We thought we were going to finish in second in our group, but got knocked out and the last game just became a formality and we didn't achieve what he had predicted for ourselves.
I wanted to talk to you about your time in the Persian Gulf Pro League w/Persepolis and Machine Sazi? How was that time for you?
I was very young and had the qualities to play really well. However, the conditions changed and because of that, I couldn't reach what I had in mind. But I'm still thankful that I didn't get far from my goals, I continued my path, and I am happy with where I am now. I tried really hard when I was Iran. When I look back, I know I gave it my all and tried to make myself better everyday and shine and this gives me a peace of mind knowing I put all my effort into that.
How did you get transferred to IBV in Iceland? What'd you learn from that experience?
I had a very good relationship with Mr. Abdi, who was close with the head coach of the national team of Iceland and was a former coach of IBV, and he recommended me. He saw me train and thankfully he liked what he saw. It was a great experience because like other Scandanvian teams, they have great potential to be at a higher level. They have quality players in Iceland and I could do my best and from there, I went to higher levels.
What was your short time at South Korea like?
I had a contract with IBV and had a year left, then got an offer from Suwon Samsung Bluewings and decided to take it although my heart was still with IBV because I had the best time in Europe. But I decided that Asian football could help with my growth. For around a week I trained with Samsung and then ran my medical tests. About 24 hours after the medical, I woke up to news about my contract that I didn't even know about. It was a big shock to me. It was one of the biggest challenges of my life. In general, before every step I take in my life, I think about it thoroughly and don't take these decisions lightly and that's why I stayed in South Korea for a short period of time, shorter than I had imagined.
You had two great seasons Olimpik Donetsk in Ukraine. Could you talk to us how those seasons went for you?
Firstly, I was out for half a season when I returned to Iran in late January and the window closed until the summer. I spoke with my agent and told him about my goals about going back to Europe and he got me offers. I went through them and felt that Olimpik Donetsk was the best option for me because it was a team that I could show my strengths. I was very happy to join the team, it helped me continue in the direction I always to take and to show the league what I was capable of.
How did the transfer to Zorya Luhansk go down?
Olimpik offered me a new contract for me to stay, but I felt it was time for me to move on. I enjoyed the Ukrainian league but wanted to go to a higher level team in the league. Among the offers, Zorya Luhansk was the most valuable, because they are around the top-3 teams in Ukraine and they respected me, so it was a good decision.
This season, so far you have 10 goals and 4 assists. What is your next goal?
So far this season, there were some games where we shouldn't have lost, but we are happy with the overall results this season and I am just focused on helping out my team in the upcoming games.
Why do you think you haven't gotten called up to Team Melli?
It's very important to get invited to Team Melli and it's an honour to know that there were people that thought that I deserved to be there. But no matter what, if I am there or not, what's important is for the team to win and become successful. I don't think there was a specific reason to not get called up. The coaches want the best for the team and in their mind they want what is best for the team and they choose carefully. I will continue to try my best and hopefully I get invited in the future.
Thoughts on potential playing for the Ukrainian National Team?
This all came to light when I was selected as the 11 best players in the Ukrainian League. I was happy to be chosen and yes, there have been talks [on a possible Ukraine call-up], however the patriotism of Iran has always existed and the fact that I am proud to be Iranian. My priority has been my country but the truth is there have been talks and this cannot be hidden, however I'll always want to play for the Iran national team. If I don't have any international caps for any country, this won't upset me. Having said that appearing for my country's national team, even one minute, in my opinion can be one of the most important events in my life." 
How's your relationship with Allahyar Sayyadmanesh?
We help each other become better, we compliment each other very well, and we are happy that we have each other on the same team. We both try to help out the team any way we can and I'm very happy at the moment.
Where do you see yourself in the future?
I would love to play in one of the top 5 leagues, but if I were to pick one I would love to compete in Italy if I were offered to chance.
Is there an Ukrainian player that you enjoy playing with the most?
I can't pick one person specifically, but the people there are very nice and it is super competitive and since joining the league with Olimpik Donetsk, I am happy to be playing here.