14.03.22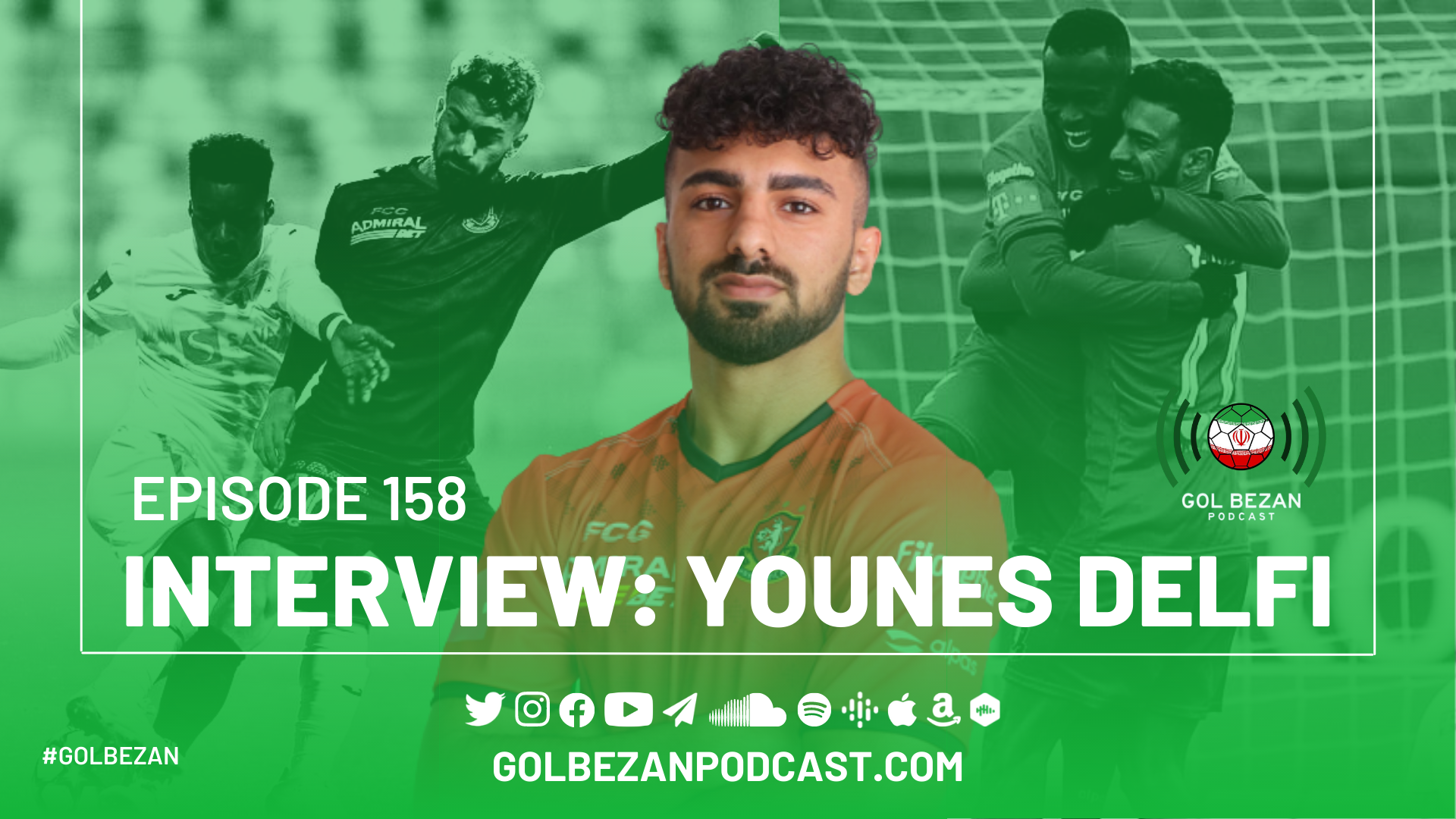 Written by Armin Pishro
Graphic by Mahdi Javanbakhsh
To listen to the interview in Farsi click here
Tell me about your current club, You have had a hard start to 2022, losing 6 games. 
We have recently changed our manager, he parted ways with the club. We all agree we have had a poor start to the 2nd half of the season. From the first, the new manager changed the atmosphere, its very positive at the moment and we have big ambitions to end the season on a high, which could help players with a big transfer.
You are the youngest Iranian player to play in Europe, I want to talk about the 2017 U17 World Cup, you scored 2 goals vs Germany. We had a very strong team, what did you learn from that experience?
I think all our players had success in mind, we didn't care who scored, the only important matter was the result, a big family you helped better each other. We put all phones away and focused on training for the opposition, we didn't think about draws, we focused on wins. I have to say that was one of the best teams to be involved with, all those players are now playing at a good level and I want to thank everyone involved. 
Are you close to any of those players?
Yes, we occasionally meet up with the boys when we all come back to Iran, we go out for meals.
What can you tell us about Mr. Chamanian?
He is my mentor and I thank him for this, on his first day he came with an idea and focus that we couldn't believe, he had a huge passion for his job, he would stay awake until 4am looking for the best tactics. When I was in a bad way during my time at Charleroi I needed to speak to him to help me overcome this, he changed how I felt and I returned to the team. This man only taught us the positives in football and life, he made us stronger mentally. 
At Esteghlal Khuzestan, you had a great 2nd season and that's when your career truly kicked off, what can you tell us about your time there?
As you know they have been relegated at the moment and that comes to the lack of care for this club, I can say that during my 3 years I made 30/40 million, which was nothing. Money aside I developed at this club, I never cared for the money. I tried my best there and I was hugely assisted by the coaching team who helped my show my true self at a young age as well as other young players, it was a great memorable time there but it does hurt me to see them in the 2nd Division. All I could do was move and help them with my transfer fee.
You trialled at PSV, tell us about this time?
I had returned from international duty when I received an offer but needed to complete a medical, I wasn't supposed to return to Iran. The issue was that, Mr. [Amir] Soltani wrote a letter to PSV stating that you may not contact our player and we will not be selling him to you. I arrived at PSV when they stated that they have received a letter and I will not be allowed into the club, I returned to Iran and questioned their reasoning, Mr. Soltani stated that if I wanted to go I needed to leave my current agent and take him up as my new agent. I would never do this and therefore I stayed at the club before moving to Charleroi.
In football terms, what can you say about the set up at PSV?
If you look at the team I was at, Esteghlal Khuzestan, it was a huge step up in facilities, it was a huge camp and I was welcomed by everyone. In terms of football, they would focus on individuals to improve their football skills. I would have loved to sign on for this club.
You went to Charleroi in Belgium along with fellow legionnaires, I believe Gholizadeh got injured which allowed you into the team, how was your experience when you arrived?
I wanted to play in Europe, so I knew I had to adapt in advance, it was still a bit of a shock to me getting used to the environment but my manager was supportive from day 1, I never felt homesick despite not knowing their language, as did my fellow countrymen that were at the club. In fact I went into the starting XI in my first week, but eventually due to injuries it ended poorly at Charleroi. 
What have you learnt from your injuries?
I have had knee and ankle injuries, I feel as though some have treated me poorly, one manager told me he couldn't play me even though he liked me. At times I wasn't even making the match day squad, the events that took place in training really hurt me mentally which led to our own players supporting me and asking that I am allowed to leave the club.
You're currently on loan at Gorica, how is it?
The day I came Croatia, all the players were very friendly, they treated me as if I was Ronaldo, even if I didn't play I still feel good. In terms of ambition, this came back to me. I was injured due to the lack of fitness from my time at Charleroi, I pushed myself too hard and therefore injured myself but I feel good now.
You haven't played as much as you would have liked, what's your target for the rest of the season?
Yes its been hard to prove myself as we have had ¾ managers in a short amount of time but I feel comfortable in the current manager which will help me push towards Team Melli. In the summer I will return to Charleroi and we will discuss the future, I would like to leave the Croatian League, of course the English league is the best but I do like the Spanish Leagues.
You have 1 more year at Charleroi is that correct?
Yes, we will see what happens in the summer.
The 2022 World Cup in Qatar is coming up, what are your targets from now to November?
I am hoping to receive a call up soon, Mr. Skočić has watched me a few times and I hope I can prove myself to get a call up in time for the World Cup.
The U23 has some games, what are your hopes for them?
Our U23 team hasn't been successful in a long time for many years, I hope that in the coming years we can make a great team to be the pride of the country as currently its widely mentioned that Iran is a hard team to face but we haven't always proven this.
How do you think we will do in the World Cup?
Its hard to say but I really hope we do well.