06.09.21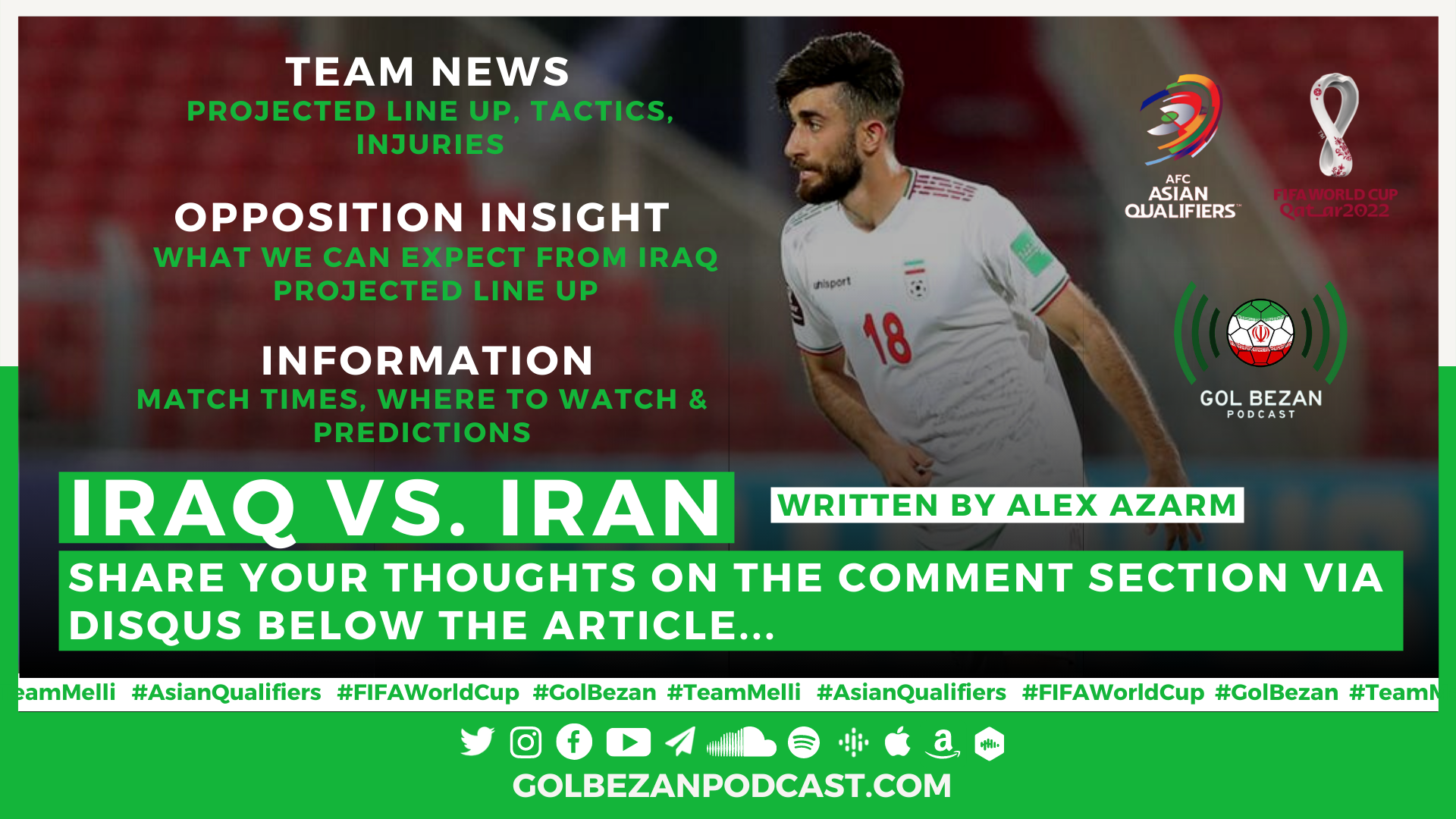 Written by Alex Azarm
Graphic by Mahdi Javanbakhsh
Tuesday 07/09/21: Iran vs Iraq
Location: Doha, Qatar (Khalifa International Stadium)
Time Zones:
Tehran – 22:30
Los Angeles – 11:00
New York City – 14:00
London – 19:00
Berlin – 20:00
Sydney – 04:00
Where To Watch:
USA - Paramount+
UK - OneFootball App or onefootball.com/en/match/2232074
Iran - IRIB
Select Countries - youtube.com/AFCAsianCup
*If your country is not broadcasting the match, we will (if available) post a YouTube link on our Twitter @GolBezan, before Kick-Off.
After defeating Syria 1-0 and taking the top position of Group A of the 2022 World Cup Qualifying after the first round of matchups, Team Melli look to take 6 points from 6 when taking on their rivals Iraq in Doha.
Recap
After getting a perfect four wins out of four to finish at the top of their group for the third round of World Cup qualifying, Team Melli continued their fantastic form on Tuesday at Azadi Stadium. Despite looking a little sluggish and not having their head coach with them in the dugout, Mehdi Taremi and Alireza Jahanbakhsh combined in the 56th minute as the captain of the day and Feyenoord winger Jahanbakhsh slotted it home to secure their first three points in Group A.
Despite not being in Tehran, Dragan Skočić has now increased his record to 8-0 since taking over the team last year, with only 2 goals conceded, with Team Melli's backline looking as strong as ever, despite injuries to important defenders such as Morteza Pouraliganji and Majid Hosseini. It's a very good sign to see how much better the team can be as they did not play up to their high standards against Syria despite coming away with the victory. It's a sign of champions.
As for their opponents Iraq, they kept a clean sheet against South Korea away in Seoul to gain a solid point for themselves going into their match against Iran.
Team News
Team Melli's squad going into their match against Iraq in Doha will have a major boost as Zenit striker Sardar Azmoun is returning to the side after serving his 1-game yellow card accumulation suspension and will most likely start up front alongside Mehdi Taremi. It will be interesting to see who Skočić will drop for Azmoun to get back into the line-up, but Ghoddos seems to be the most likely option as he was subbed out at half-time in the match against Syria on Thursday.
Some more good news that could come in for Team Melli is the re-addition of Sadegh Moharrami, who was rested in the previous match by not being part of the squad at Azadi Stadium and will look likely to replace Jafar Salmani, who is naturally a left-sided fullback and rather looked uncomfortable on the right-hand side of defence. Should an unlikely outcome of Moharrami not being able to be ready to return, look out for Saleh Hardani, who performed well in his second-half cameo in the 1-0 win over Syria.
One injury did occur at the Azadi Stadium as Milad Sarlak came off early in the first half with a head injury. It doesn't seem too serious to keep him out long-term, but the player has stayed in Iran to not risk any further complications. However, he was replaced by Saeid Ezatolahi and was one of the best players on the pitch and dominated the midfield when he came on in the 31st minute. There was a tackle that Ezatolahi got the worse end of during the second half of the match. It looked serious at first, but he continued for the rest of the match and should be in contention to start against Iraq.
As for the rest of the starting eleven, it should remain unchanged after yet another solid defensive performance coming from Skočić's men, who only gave up one shot on target and looked astute.
Aside from the players, a boost will be handed to Team Melli as head coach Dragan Skočić and head assistant Vahid Hashemian have both tested negative for COVID-19 and will be joining the team in Doha ahead of the match on Tuesday. They were not on the bench at Azadi Stadium as assistant coach Marijo Tot had to temporarily take charge for the match.
Iran did struggle to score multiple goals against a pot 5 team in Syria, but going into the match having a minimum amount of training sessions and zero friendlies in preparation for the last round of qualifiers, the win over Syria will provide the team with confidence and momentum knowing they have gotten a match under their belt.
Projected Starting Line-Up (4-4-2)
Beiranvand; Moharrami, Kanaani, Khalilzadeh, Amiri; Gholizadeh, Ezatolahi, Nourollahi, Jahanbakhsh; Azmoun, Taremi.
The Opponent
Despite losing in their previous match-up 1-0 against Team Melli, Iraq are a very defensive-minded squad under manager Dick Advocaat, a manager who has previous Premier League experience in years past. It was evident in his debut as the manager for Iraq when they drew 0-0 against South Korea led by Tottenham Hotspur star Heung-Min Son. In fact, had they secured a point against Iran in the last match of second round qualifying, Iraq would have finished top of the group and would have been in a higher pot than Iran going into the third round of qualifying.
They won't provide much going forward, similar to Syria, but will be much tougher to break down. Their most likely outlet to get on the scoresheet is striker Mohanad Ali as well as Justin Meram who brings quality up front coming off the bench. In their last match, they only managed 2 shots (0 off target) and 31% possession of the ball and against an even sturdier Iranian defence, their lack of goal scoring will be evident on Tuesday but will not shy away on the defensive end.
Projected Starting Line-Up for Iraq (4-5-1)
Talib; Karim, Natiq, Ibrahim, Dhurgham; Resan, Hadi, Al-Ammari, Attwan, Meram; Ali.
Prediction
Iran 1 - 0 Iraq
There have been multiple times where Iran seem to struggle to defeat Iraq, namely in the quarter-finals of the 2015 AFC Asian Cup where the Iraqis defeated Team Melli in penalties as well as in the 2019 AFC Asian Cup that ended in a 0-0 draw in the group stages. However, knowing that the last time these two met Iran came out on top, it will bring unity within team to get one step closer to their third straight qualification to the 2022 World Cup in Qatar. I expect a very dogged match with both defences being the strongest in the entire continent. The battle in midfield will be key with players like Nourollahi and Ezatolahi trying to out-duel Iraq's midfield. There will not be many big chances for either team, but if I were to bet on a team executing their limited chances, expect Azmoun or Taremi to find the back of the net. It will be a very similar match to Syria where Iraq will look to break Iran on the counter-attack and steal the three points with very little possession and shots on target. But with how Skočić's team in set up in defence, a 1-0 victory for Team Melli seems the likeliest of outcomes.
 
To listen to our podcast previewing the Iran vs. Iraq match, visit:
golbezanpodcast.com/golbezan/analysis-iran-vs-syria-preview-iran-vs-iraq-interview-marijo-tot
Squad List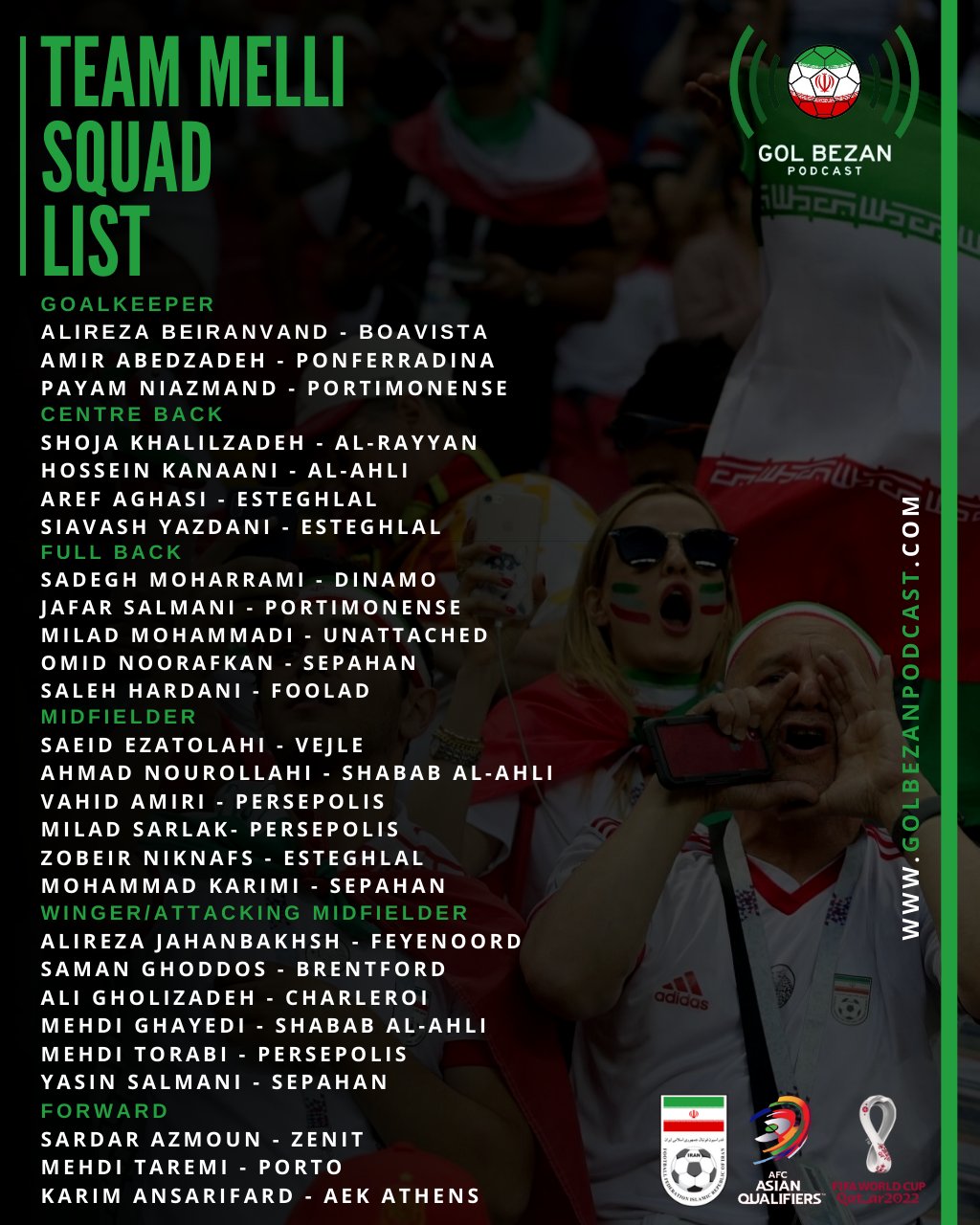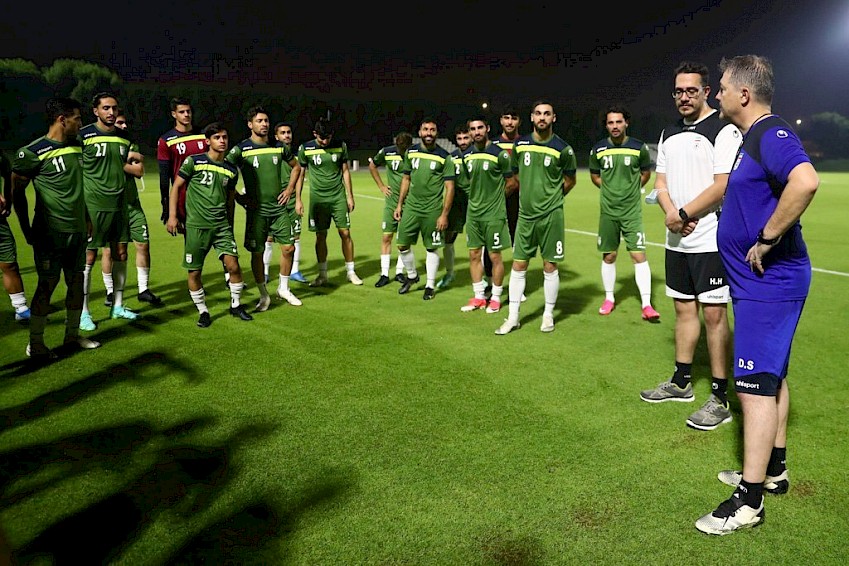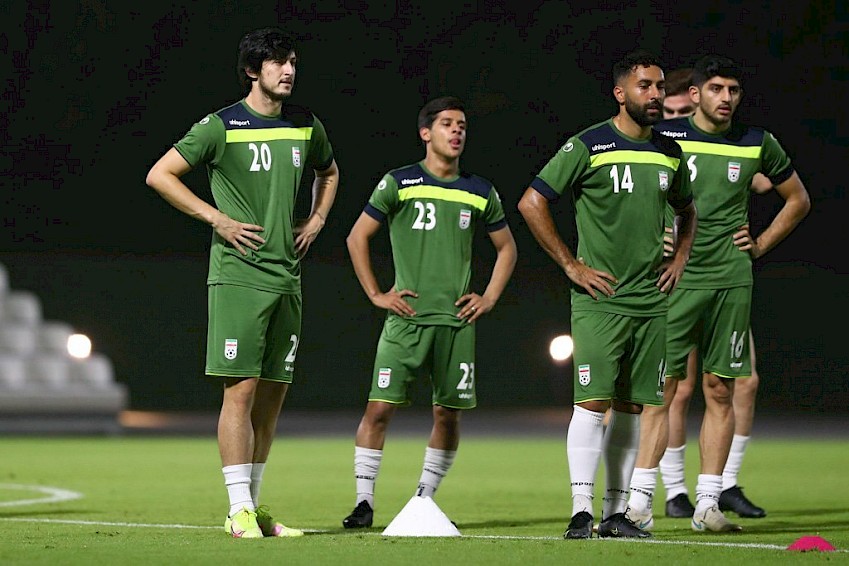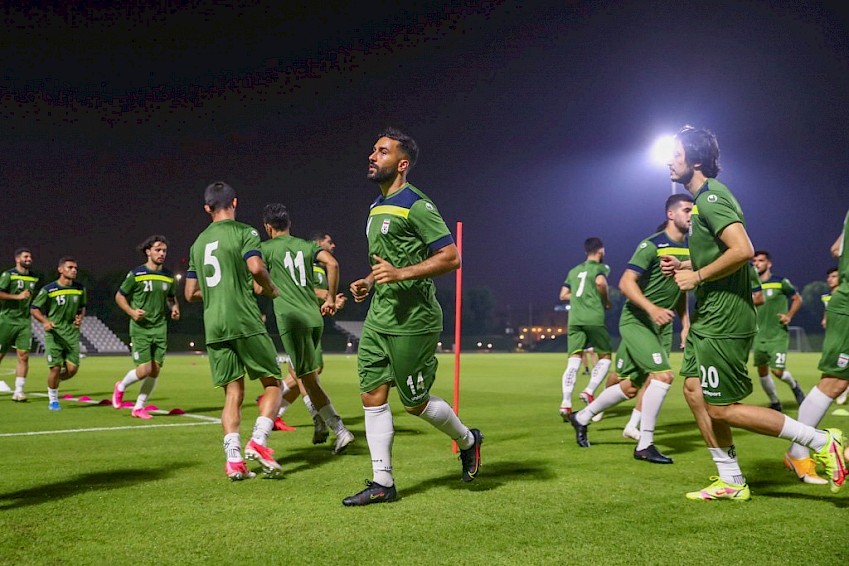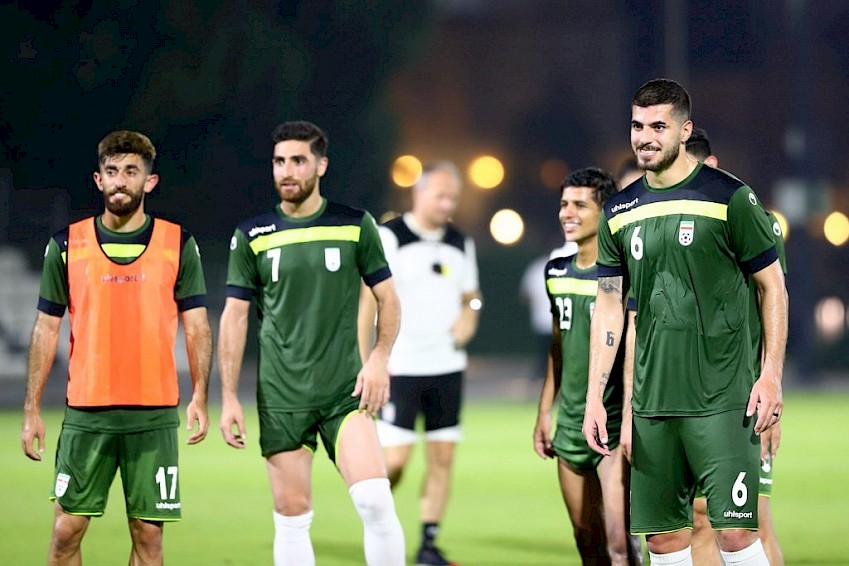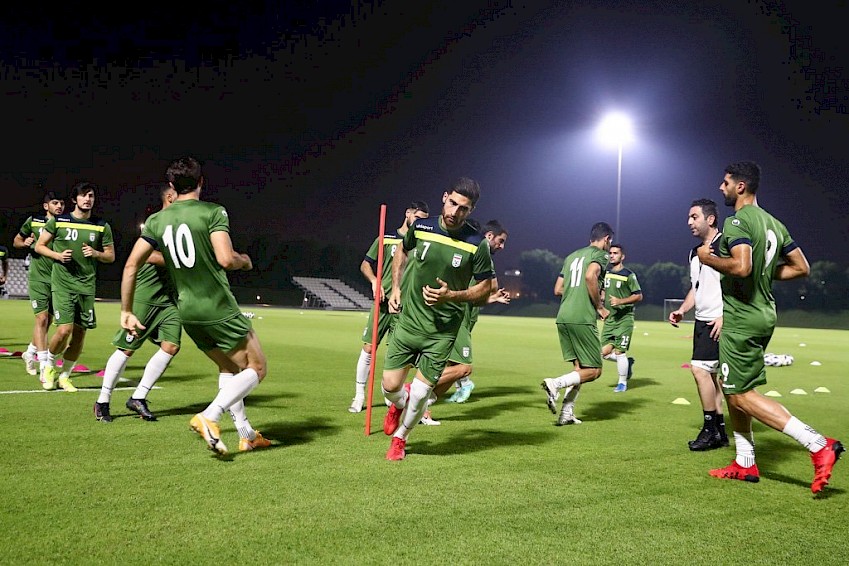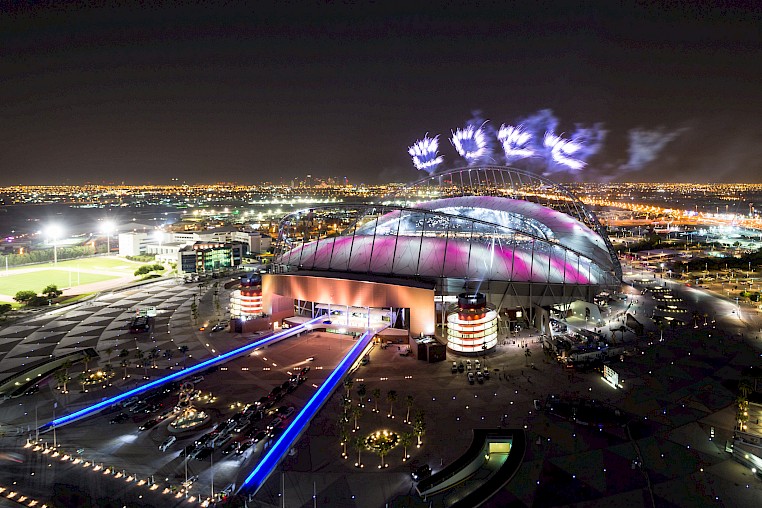 Khalifa International Stadium, Doha