28.06.18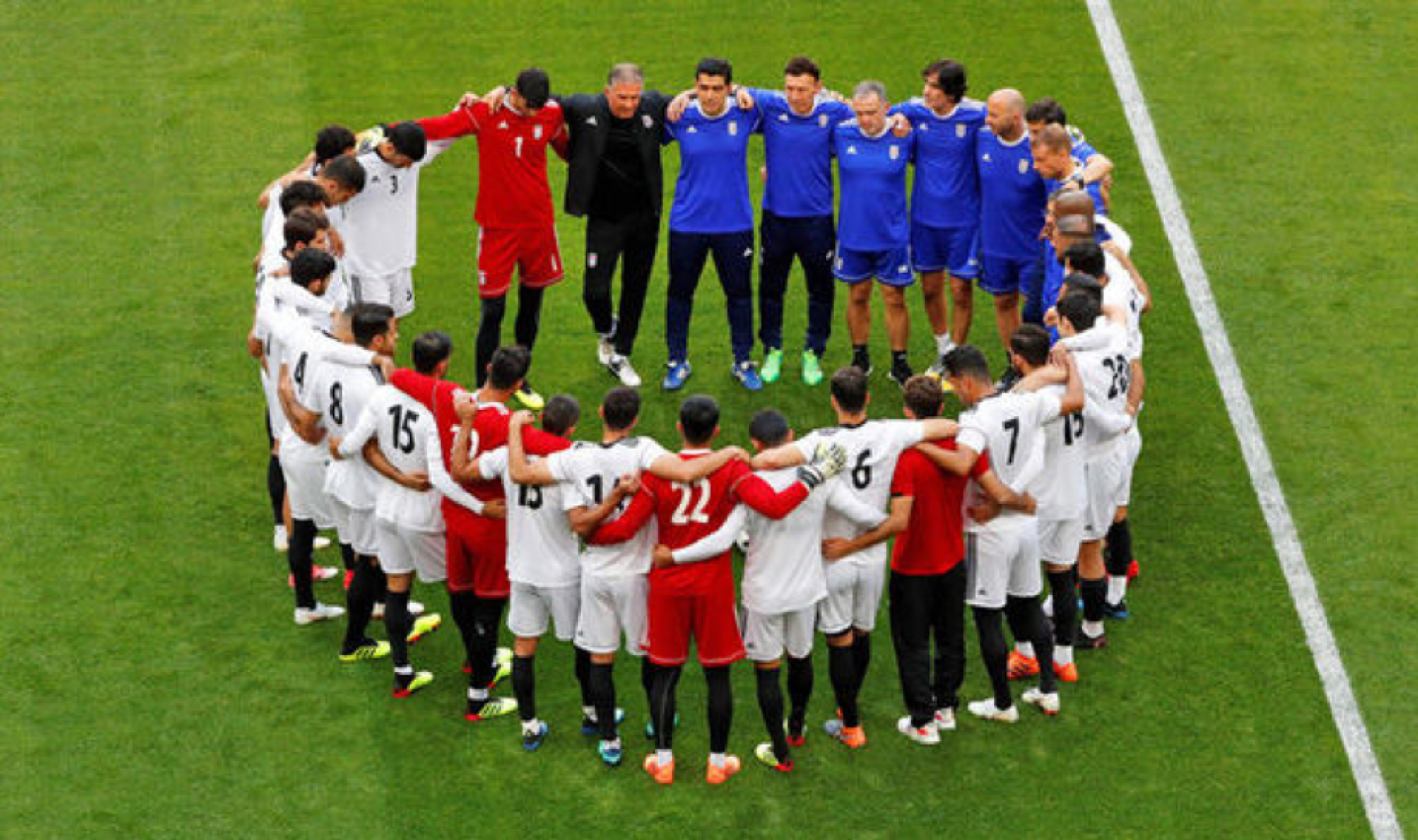 Atbin Moayedi | @AtbinM
"I've never, in all my career, seen players deliver so much after receiving so little as I have with these Iran boys." This is what Carlos Queiroz said this in a beautifully insightful interview with GQ Magazine published two days before Iran kicked off their World Cup campaign with a win against Morocco.
As Iran fans we are well aware of the impediments that Iran have had to overcome over the last few years. A federation that doesn't fully support the team and its staff. Poor pitches and facilities. Training camps and friendlies cancelled at the last minute which, due to international sanctions, are hard to organise in the first place. Iranian clubs refusing to release players. Poor quality and counterfeit jerseys (before Brazil 2014). Staff and players going unpaid. Having to pay Adidas to use their shirts rather than the other way around and Nike, a week before Iran's first World Cup game, refusing to supply boots to the Iranian players and cancelling individual player sponsorship deals.
Despite all of this the Iranian players played with heart, dedication, integrity, passion that is second to none and showed why Iranians are the most resilient people on the planet. They gave their all for the shirt. Literally blood, sweat and tears. Three things that I myself, as a simple fan, may have shed throughout this World Cup campaign (the blood after I smashed by back against the corner of a frame celebrating the Ronaldo penalty miss…worth it).
In this World Cup we have made a name for ourselves on the international football scene. Journalists, pundits and the general media, who are often very reluctant to compliment Iran in any context (within football or otherwise), have been singing the praises of our national team and our fans. Even my own friends, most of whom are English, and who (oh so uninformedly) and stubbornly underestimated Iranian football have been impressed and have a new-found
respect for Team Melli. This, for me, is the greatest sign of all when you consider the fact that many of them are deadly allergic to paying a compliment.
I intended to write this article as a review of the Portugal game but that's boring. We all watched the game; we saw how gallantly we defended and how well we played at times (though sometimes lacking quality and composure, particularly in the final third). We only missed out on qualification by a piece of magic from the excessively-inked Ricardo Quaresma.
Instead of reviewing the game, I'm going to talk about how our boys deserved to go through based on the performances in the three group games. We were unfortunate not to go through, missing out on progression by tiny margins. Yes, we were lucky to win by a 95th minute own goal against Morocco. And yes, that VAR-given penalty we got against Portugal wasn't a penalty.
On the other hand, Spain only scored after a Ramin Rezaeian clearance ricocheted off Diego Costa's leg into the bottom corner of the goal. We should have had a penalty against Portugal (that didn't even go to VAR) in the very early stage of the Portugal game when it was 0-0. Cristiano Ronaldo should have been sent off with about 10 minutes to go in the Portugal game, which is, yet again, another example of player's names giving them protection.
I will, very controversially, even go as far as to say that it is in the interest of FIFA and its sponsors to ensure that a player of Ronaldo's stature remains in the tournament and doesn't receive a three-game ban for a straight red card. Make of this what you will, but it was either a red card or no card (and after receiving a yellow card, Ronaldo is immune to retrospective punishment and a three-game suspension for violent conduct.) At best, the referee bottled it. At worst (which is what I have come to think of FIFA after the World Cups in Germany, South Africa, Brazil, Russia and Qatar were bought by the host countries), referees have been discouraged by higher powers from sending off big players or players from bigger teams. It's obvious that the further the big teams and the big players go in the tournament, the more money is generated to fill the pockets of Gianni Infantino & Co (who very inappropriately and nauseatingly sits in the stadiums with the leaders of the countries that are playing). The referee also took four minutes during injury to award the penalty, but didn't add any more time on top of the six minutes of injury time given. Let's not forget, however, that Mehdi Taremi, with a little more quality and composure, could and should have won us the game in the 94th minute. But this is football.
We were the victims of a tough group draw and I will say, with confidence, that had we been in any other group, we would most likely have progressed to knockouts. Take Argentina for example, they only just qualified with a last-minute goal from Marcos Rojo to beat Nigeria 2-1. Like us, Argentina finished with four points but with a goal difference of -2 compared to Team Melli's 0. We would have qualified from their group with our points tally, not to mention that it was an easier group in the first place. Had Taremi scored, we would have won the group and gone on to play Russia in the Round of 16 and by beating them we would have played either Croatia or Denmark. So, we could have very feasibly gone on to the Quarter or even Semi-final. This is all by the by and I would be lying if my overwhelming sense of national pride isn't accompanied by bitterness, sadness and a sense of injustice.
Team Melli have become a neutral fan favourite during this World Cup and rightly so. Our lesser known players, many of whom would have caught the eye of European clubs, have made a name for themselves and, more importantly, have made a name for Iranian football. Our amazing fans in Russia as well as all 80 million people in Iran and the five million Iranis who are spread all over the world, have represented our country beautifully (even when fans in Russia descended upon the Portuguese team's hotel and made noise until the early hours of the morning before the game).
We played the best team in Africa, followed by recent World and European champions Spain and finally the current European champions Portugal, who have the best player in the world. It has been an absolute privilege to watch our boys take on the world's best, and in four years' time, I am confident that we will go through to knockouts after no doubt challenging for the title in the Asian Cup in January 2019.
So let's go back to how we all, as Team Melli fans, really feel. As I sit here with tears in my eyes reflecting on the last two weeks, I can speak for every single Irani, from the blonde and blue-eyed Caspian people in the lush plains of Gilan and Mazandaran of the north, to the Afro-Iranian people of the Bandar cities of the south, when I say that we feel proud. "80 million people. One nation. One heartbeat."
All for Team Melli.