21.03.18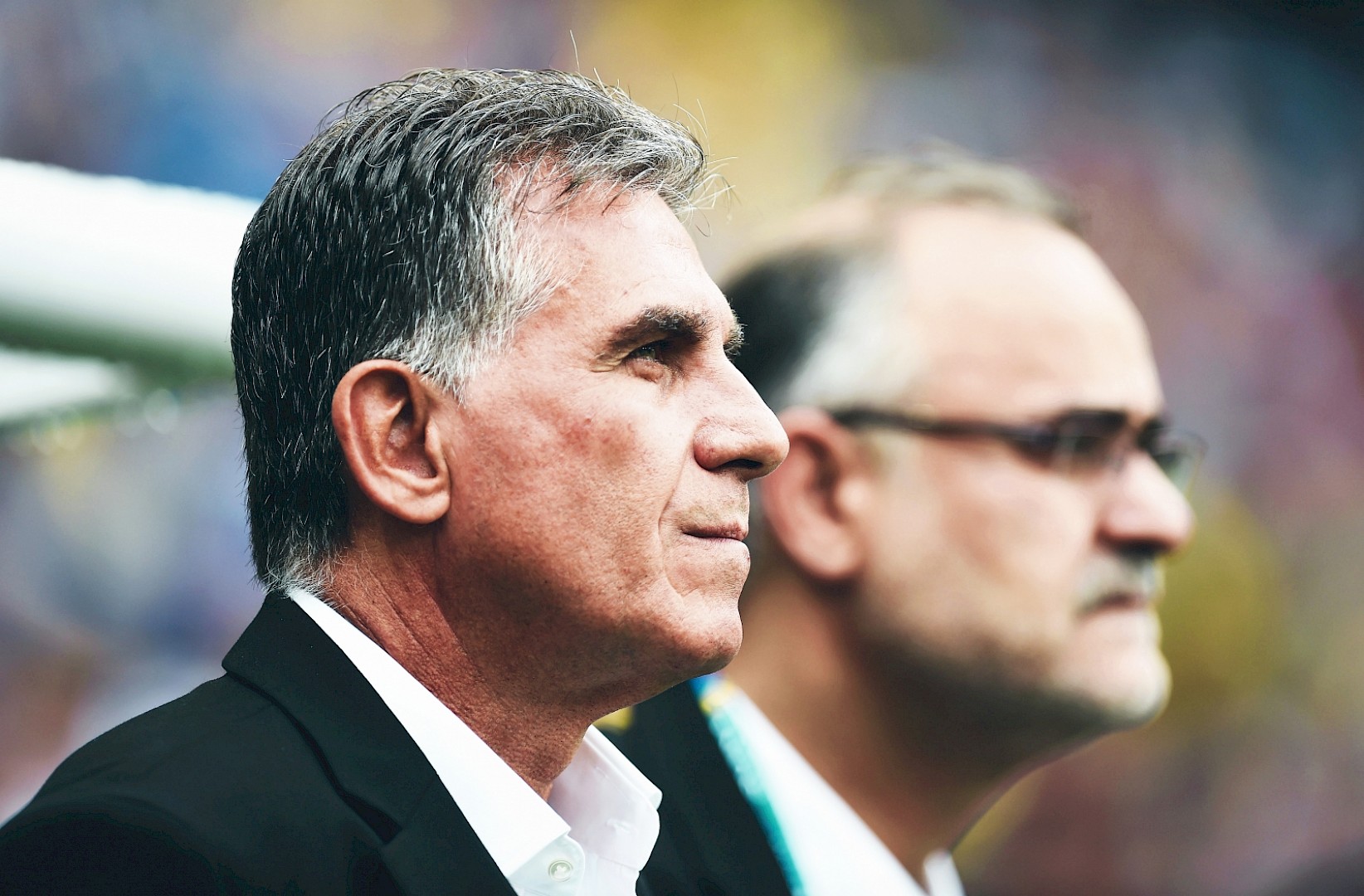 Iran qualified to the World Cup in Russia unbeaten, as they set a new record for the most consecutive clean sheets in World Cup qualification, a total of 1,121 minutes, having only conceded two goals against Syria in their final group game after having already qualified to the tournament. Having qualified as the second team after Brazil thirteen months ahead of their first group match, Carlos Queiroz has had plenty of time to work on his tactics and possible formations. Iran have often lined up with 4-2-3-1 (or a similar 4-5-1) with Saeid Ezatolahi (who is banned for the game against Morocco) alongside either Omid Ebrahimi or Ehsan Hajsafi, the latter of whom has surprisingly, and effectively, slotted into the partnership in the middle of the park. Queiroz has, however, often switched to a 4-3-3, a formation he has adopted with increasing frequency, and sometimes even, uncharacteristically, played with two strikers in a 4-4-2. The formation most frequently used in Iran's qualifying campaign was 4-2-3-1, though more recently, in the preparatory friendlies against Panama and Sierra Leone, Queiroz has also adopted a 4-3-3 and 4-4-2 formation, respectively. Chances are that, as 4-2-3-1/4-5-1 has been Queiroz's formation of choice throughout his management of Iran, and particularly in Brazil, this is the formation with which Iran will start its World Cup matches. Another argument for this being the line up of choice is that it fits with the semi-conservative and counter-attacking football that Iran execute so effectively, using a number 10 to link-up play between the midfielders and Iran's pacey attack. That is not to say, however, that against Morocco a more attacking 4-3-3 will be used. It is worth noting that regardless of the formation with which Iran kick off a game, the team has the ability to fluidly and effectively switch to another formation if required to do so.
After December's World Cup group stage draw, Queiroz said that the match against Morocco will be like a 'World Cup final', emphasising the importance of the opener in light of the challenge of the following two games against Spain and Portugal. Morocco, like Iran, depend on strong defensive discipline engrained by an experienced coach in Herve Renard, who won the African Cup of Nations with over-achievers Zambia in 2012 before winning the tournament again with Ivory Coast in 2015. The match against Morocco is arguably a must-win if either team wants to qualify to the knockout round, which adds further importance on finding the right balance between attack and defense, particularly against a team with many tactical similarities to Iran.
As previously mentioned, Queiroz usually plays with one number 9. If it were to be assumed that Iran would start with 4-2-3-1/4-5-1 or 4-3-3, then Queiroz has another, albeit luxurious, headache of deciding who is to be first choice striker. Iran's first choice striker since Brazil, a tournament he narrowly missed out on, has been Sardar Azmoun who, after his controversial move to Rubin Kazan from Rostov, has struggled to find the back of the net having scored only once in his 22 appearances for his new club. Albeit 12 of these appearances have been off the bench in a season in which the young striker has not been free of injury. Olympiacos, who are currently sitting one point off top in the Greek Super League, have benefitted greatly from the fine form of Karim Ansarifard this season. After a slow first season, after his January 2017 move to Olympiacos, Ansarifard has scored 14 league goals in 20 appearances (as well as one cup goal in two cup matches), averaging one league goal every 112 minutes. Having scored 26% of his team's league goals this season, Ansarifard's contribution to their league position cannot be understated. Reza Ghoochanejad, whose goal against South Korea in June 2013, catapulted Iran into Brazil finished third in the Dutch Eredivise scoring charts last season with 19 goals. This season the experienced striker has not been quite as prolific, scoring 6 league goals in 26 matches. One striker who, this season, has made a very strong case for his place on the plane to Russia in the summer is Kaveh Rezaei. After his move to Sporting Charleroi, Kaveh Rezaei has scored an impressive 12 goals in 29 appearances, as well as providing six assists. He has scored every 198 minutes, contributing to 26% of his team's league goals, and helping Sporting Charleroi sit in third place in the Belgian Jupiler League. Rezaei recently got his first goal for Iran in the friendly against Sierra Leone and, at 25 years old and yet to reach his proverbial peak, if he continues to make contributions of this nature, it will be hard to see Charleroi keeping him at the club. In reality, whilst Azmoun has been Iran's first choice striker, it is futile, based on their relative performances to try to predict who will start in Russia. Carlos Queiroz is blessed with several strikers, two of whom are in great form, whilst the other two have an excellent scoring record for Team Melli. Each striker has a skill set that the others do not, Azmoun with his aerial ability, Ghoochanejad with his defensive work rate, and Ansarifard with his link-up play is more of a complete striker, an attribute shared with the in-form Rezaei. The truth is that Team Melli has an embarrassment of riches in the number 9 position, such that has not been seen in generations and Queiroz will have the ability to choose whom to play based on the needs of the team at that point in time. It is worth mentioning that there are other strikers, such as Ali Alipour, who has had an excellent season for Persepolis, but due to the experience and form of the abovementioned four strikers, it is hard to see Alipour having a place in the 23-man squad, let alone a seat on the plane to Russia.
One of the keys to Team Melli progressing to the knockout round of the World Cup for the first time in their history will be the performance of star player Alireza Jahanbakhsh. The AZ Alkmaar winger is the second highest scorer in the Eredivisie with 13 goals, which, for a player who does not play upfront, is excellent (he is second after Willem II's Fran Sol with 14 goals). Jahanbakhsh has also made 11 assists, which again puts him top in the chart of league goals contributed. He has a minute-to-goal ratio of 189 minutes, has scored 22% of Alkmaar's league goals and has had a hand in 43% of their league goals. His importance to his club this season has been enormous and it is looking increasingly likely that Jahanbakhsh is leaving Alkmaar after serious interest has been shown from several clubs across Europe's top four leagues. Whilst he has, since his move to NEC Nijmegen in 2013, consistently had stellar performances, Jahanbakhsh has often become anonymous when playing for Iran. It will be hard to see Iran progressing to the knockout round without exceptional performances from the technical winger.
Ahead of the World Cup, Iran has a team with a fantastic mixture of youth and experience, a team with record-breaking defensive discipline who have played together, under one coach, for many years. Carlos Queiroz has plentiful talent, as well as systems to choose from and will, undoubtedly, adapt his starting line-up and formation according to opposition. What will be interesting is seeing, now that Team Melli have gathered for the friendlies against Tunisia and Algeria, how the team will line up, and perhaps more interestingly, how Carlos Queiroz will decide to play, particularly against an Algeria side which likes to dominate possession. A very strong argument can be made that this is the strongest Team Melli in history and, even though Iran have been drawn against two of the best teams in the world in Spain and Portugal, they have a decent chance at reaching an unprecedented round of sixteen. Progression will undeniably rely on the continued defensive discipline of the team, the tactical know-how of Queiroz, more goals than Iran have previously scored at World Cups, particularly from the strikers, and performances from Alireza Jahanbakhsh that match - or perhaps even surpass – those of his club.    

By Atbin Moayedi