04.04.18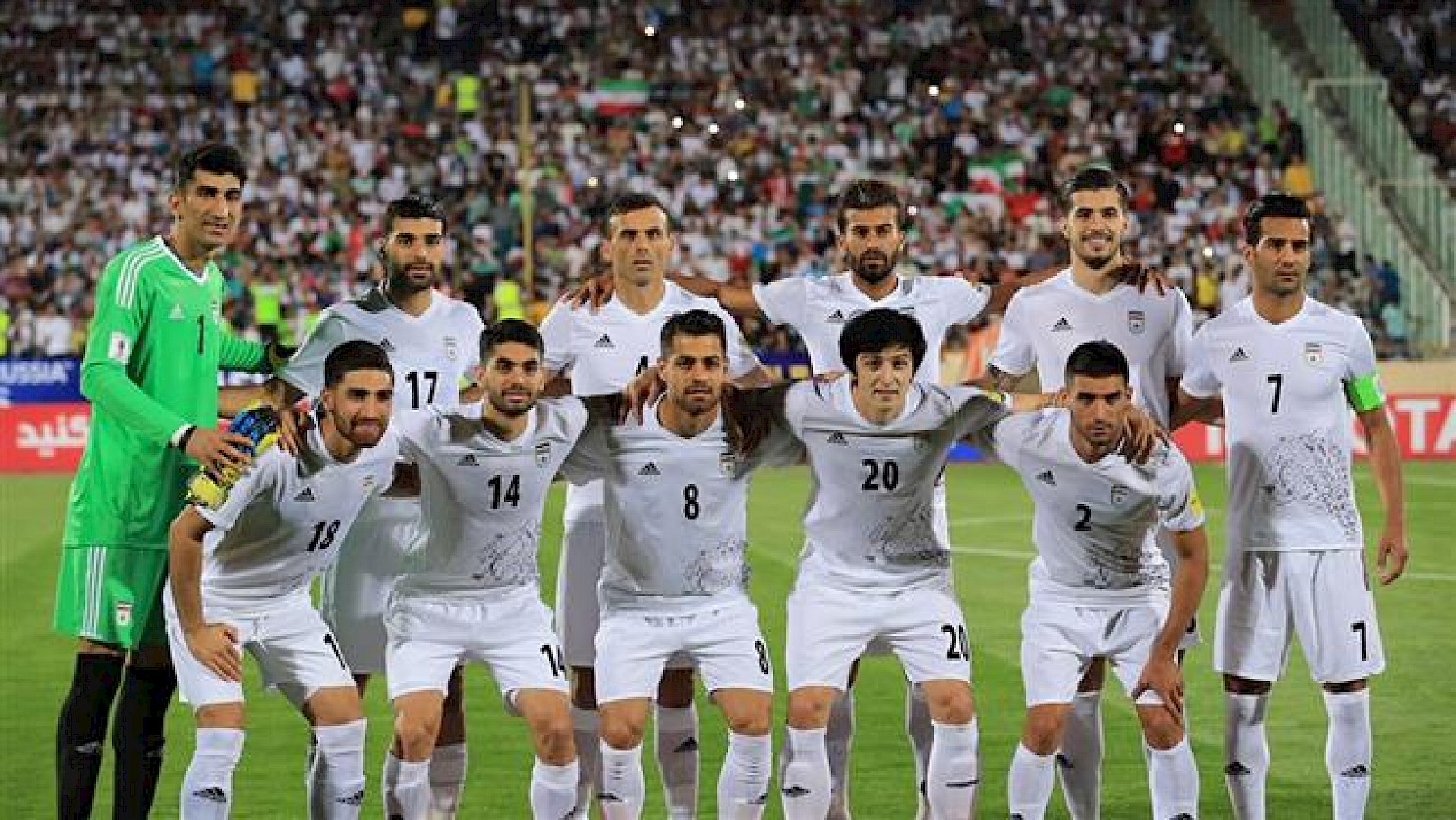 Whatever your opinion may be of Carlos Queiroz, who is arguably the greatest coach in Team Melli history, it is evident that he is not going to rest on his laurels. This is not the first time that Queiroz has criticised the ability of domestic players nor is it the first time that he has highlighted the need for more time with his players and better preparation. Team Melli fans need only rewind to the beginning of the 2018 World Cup qualification campaign for similar comments. So how does the preparation and squad for Brazil 2014 compare to the current squad and its preparations?
The Squad
It can only be speculated, with some degree of accuracy, who will be on the plane to Russia. With the exception of Alireza Haghighi, it is highly unlikely that a player who was not in the squad of 29 selected for the Tunisia and Algeria friendlies will be in the final 23-man squad selected by Queiroz and his staff for the World Cup. 23 players out of this 29 have been chosen, in a predicted final squad, whereby six players from this squad of 29 (Abedzadeh, Aghaei, Khanzadeh, Karimi, Torabi and Gholizadeh) have been excluded.
If we compare the squad that went to Brazil with the predicted squad of 23 players that may go to Russia, we find that the 2018 squad is, on average, just over 7 months younger with an average age of 27.4 years compared to 28 years. Considering this, it is even more interesting that, even though the squad is slightly younger than in Brazil, the players have on average three caps more this time around, with an average of 33.7 caps compared to 30.6.

11 players (48%) are below the age of 26 and there are 13 players (57%) with 25 or more caps (Taremi and Ezatolahi are currently on 23 and 24, respectively). 8 players (25%), like Hosseini and Hajfsafi, will be going to their second World Cup whilst 13 of the 23 (57%) also played in the 2015 Asian Cup. It is clear that, with an age range of 21 to 36, the squad that will go to Russia is a squad with a mix of adventurous youth and solid international experience.
Another point of comparison is where the Team Melli players play their club football. As we can see, the number of players playing for European clubs has doubled from 6 (26%) to 12 (52%) players in the four years since the last World Cup. This is even greater progress when you consider the fact that there were only two Europe-based players, Nekounam and Shojaei, playing for Team Melli when Queiroz took over after the Asian Cup in 2011.

Since taking over, not only has the Portuguese tactician encouraged Iranian players to move abroad and rewarded these moves with invitations to the national team (Ali Karimi, Kaveh Rezaei and, not to mention Jahanbakhsh, spring to mind), but he has also tapped into the footballing talent within the Iranian diaspora. Ashkan Dejagah and Reza "Gucci" Ghoochanejhad had both represented Germany and the Netherlands, respectively, at youth level before becoming stalwarts for Iran. Whilst there was less success in cases such as Omid Nazari and Daniel Davari, Queiroz's venture for dual-national Iranians has certainly paid off; Gucci scored three goals in the 2014 World Cup qualifying campaign with two of those goals each in two separate 1-0 wins, not least of all against South Korea in the final, all-important, qualifier for Brazil.
Goals
Team Melli qualified to Brazil and Russia by averaging one goal per game in both qualification campaigns. Qualification for Brazil occurred with much greater ease than the previous campaign due to Iran's defensive discipline, having only conceded two goals (against Syria in the last game after already sealing qualification). In the 2014 qualifying campaign, Team Melli relied on Nekounam and Ghoochanejhad for goals and only managed to score one goal in Brazil, in a 3-1 loss to Bosnia & Herzegovina. Ahead of Brazil, there was a clear shortage of both goals and goalscorers throughout qualification, the 2015 Asian Cup qualifiers and the World Cup warm-up friendlies.
In the 2018 qualifying campaign, however, goals came primarily, albeit with reliable frequency, from Azmoun and Taremi (scoring four and three goals, respectively) in addition to goals from Jahanbakhsh and Gucci. It was also clear that Iran's attack was, this time around, much more potent and caused defences greater problems than previously. One point of criticism would be that Team Melli did not take all of their chances and could actually have scored more goals throughout qualification, particularly in the crucial 1-0 win against South Korea at Azadi.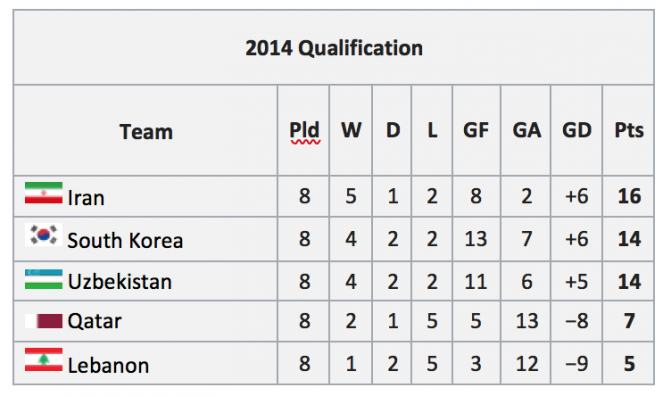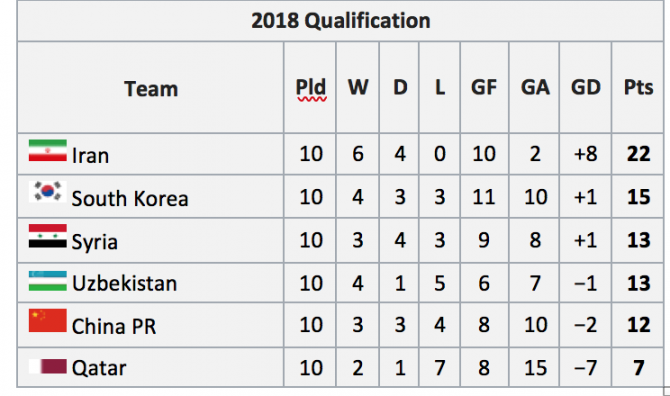 Results & Match Preparation
Ahead of the 2014 World Cup, Iran played five friendlies against mediocre opposition, yet only managed to win two games, scoring four goals, and playing another two games without scoring. With just over two months left until the first group game against Morocco, Iran have already played as many friendlies as the previous warm-up period. The friendlies this time around are against better opposition, so far with better results and scoring twice as many goals in as many games as the Brazil warm-up friendlies.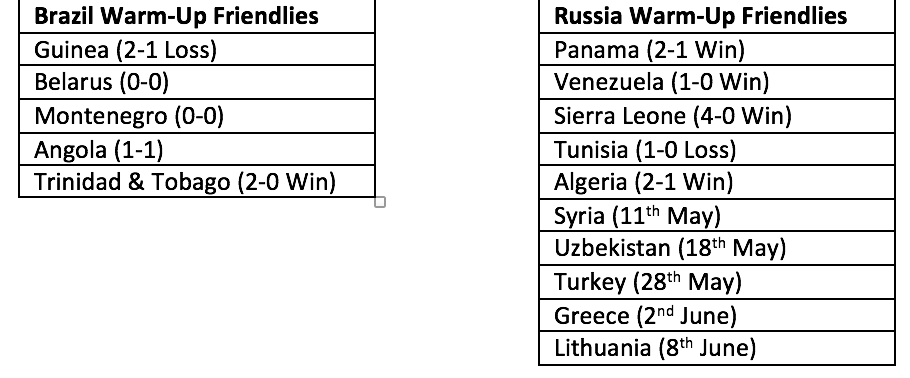 One criticism of the friendlies would be that, at least some of them, could be against better opposition - perhaps more teams, like Tunisia and Panama, that have also qualified to the World Cup. The organisation of fixtures against stronger opposition, however, is slightly harder than the norm when you consider the unique administrative and financial challenges that face Team Melli. Equally, the potential psychological rewards of playing (and beating) the opposition in question, can also be used to argue that playing much better opposition could backfire.
It was evident, against Tunisia and Panama, that some players lacked the physicality that will be needed in a World Cup in which you will play three games in ten days. If certain players are going to have the necessary stamina and win duels, aerial battles and 1v1 challenges, a further training programme will be, as Carlos Queiroz says, of paramount importance. Even though Iran face an incredibly tough task in progressing to the knockout round, one glimmer of hope is the significant improvement in the squad as a whole, including both its offensive and defensive abilities, and the greater level of preparation that has been undertaken ahead of the Morocco match on the 15th June.
By: Atbin Moayedi